Neu Women: Aditi Shah, Peloton Yoga & Meditation Instructor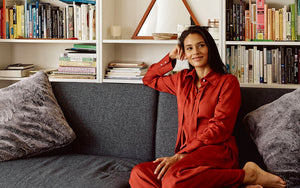 We met up with the inspiring and talented Aditi Shah at her Brooklyn apartment exactly two weeks ago to interview and photograph as part of our first Neu Woman campaign of 2020.  The excitement was mutual, but hers was admittedly greater as she was packing to embark on one of her most important trips: she was leaving for India to get married!  By that time, COVID-19 was already on the news, but it seemed that taking certain medical hygiene precautions could keep the virus at bay.  How little did we know how things would unravel... Maybe, it was a bit of wishful thinking, but mostly, we were still in the dark about the whole situation.
Aditi Shah was introduced to yoga by her parents at a very young age. Growing up she had Indian style yoga teachers come to her house to practice but she admits she wasn't into as much back then. It was not until she moved to Mumbai after college that she was able to deepen her connection with her yoga practice.  While she was pursuing a career in modeling and acting, she found her practice was a way to weave an inner dialogue with herself and to harmonize her mind and emotions so as to be one with herself. In her own words, 
"The ultimate goal of yoga is for us, the practitioner, to identify ourselves for who we are on the inside and not for yourself within the material world. And I think especially in our age of Social Media and also living in a place like New York, it can be hard to do that all the time: to think about what is really ME and what is me being bombarded with all these other things. So yoga offers the opportunity to turn our lenses inwards and start identifying more with our true self. Along the process there are a lot of things that happen and are really important tools to be living in this world. Some of these are the kind of lessons that you will get from any kind of disciplined practice. Discipline teaches you that things take time, that you need to stick with them, that everyday is not going to be the same, that you need to go through the ups and the downs. Those kinds of things happen with all practices and it is beautiful, it's for life. But what is special about yoga is that when you start to understand yourself, the way that you think about and look at yourself often translates to how you think about the world. If you start to see yourself more clearly and identify more with yourself and have more softness to yourself, maybe you can do that for other people too. There is also this, if you learn to breathe through something that is challenging you can bring that off your mat too, if you can find ways to be mindful. Some of us just truly live outside of our bodies, we don't notice what is happening - for example, how anxiety causes a tightness in my chest - so it's important that to take that mindfulness off the mat and feel what is happening with in us. How we are behaving with our partners, how we are talking to ourselves, how we relate to other people. I think the practice of yoga and meditation really changes the way that you relate to your own thoughts and emotions, and that translates to how you are being in the world. So even if you are not aiming for that ultimate goal, that enlightenment, there is so much along the way, so many small gifts that you are going to get along the way." 
She began teaching out of a profound love for what yoga meant to her. It was a tough decision at first as she wanted to keep the practice to herself, but she realized eventually that sharing it with the world wouldn't go against or diminish what she had already accomplished. And when we read her words and personal reflection about the practice, one can't help but notice how powerful and relevant they are today. Scientists have already confirmed that yoga can help support a balanced nervous system, emotional resilience, brain health, and more. But it's so much more than that as Aditi speaks also about self-reflection and kindness, which we believe are the key factors to incorporate in our daily routine. Introspection, being informed but not overwhelmed, taking care of ourselves and those around us, and knowing that the only way to get through this is together. 
There is so much more to say and learn about Aditi, so we decided that, apart from sharing with you all her NEU sustainable habits and practices, we would add a short interview with other relevant tips that may come in handy during this pressing and unprecedented situation of self-quarantine that many of us are facing right now. From her routine, to her diet, yoga classes, wedding reschedule and much more. 
Can you share with us your self-quarantine routine?
My company is still open, so I'm working less, but still working. I wake up, take NMNs (nicotinamide mono-nucleotides), vitamin C, and then have black coffee. I try to go for a walk if the weather is decent. If they are available, I will Skype with my family in India for a bit, then squeeze in a live workout class on Peloton. I eat a late breakfast and then I usually have meetings/work to take me through the afternoon.  I break for lunch and I try to make sure I get up and move every 90 min, even if for just a short jump around dance break. I try to end laptop time by 5pm and then I put music on and make dinner. In the remaining, I'll read, or watch television and wind down with my fiancé.  It's nice to take this time to slow down. 
How are you balancing your diet?
I try to eat fresh whole foods. In spite of quarantine, we've managed to get our hands on plenty of veggies and fruits. I'm not restrictive with eating, but I avoid sugar processed foods.
Did you experience any anxiety or fear? If so, how do you manage it?
Fear and anxiety are emotions that arise to protect us. I think it's okay to feel those things, and to acknowledge them. But then to also remember just how many other tough and scary things we have made it through, that generations of our ancestors have made it through hard times and are cheering us on. 
There are a lot of couples that had to cancel their wedding. Can you tell us a little bit about your experience and how you and your partner are dealing with it?
I was supposed to leave for my wedding on March 13th. On March 11th, we learned that India was suspending all visas and we realized none of us would be able to go to the wedding. My whole family, my planner, my photographer and my fiancé all got on Skype. First, I tried to figure out if there were any solutions for us to still be able to go to India and get married. Then we came to the conclusion we should try to postpone the wedding. So we emailed our guests ASAP. 
Airlines have been and still are impossible to reach. We've given up getting refunds for domestic flights within India, and are waiting to follow up with airlines in April when we can get through.
It took a while, but the hotel agreed to let us shift our dates. Now we are working on hotel refunds, etc. We'll get married next March 1st!
We are doing our best to be grateful for what we have. We are so thankful that we all are safe and healthy right now, and we still have the important things in life like each other and art!
For all those beginners out there, how can they start incorporating meditation and yoga into their routine?
Start with a commitment. You don't have to do a 30 minute meditation or yoga class, but commit to a certain amount of time and stick to it. For yoga, start with 3-5 days a week. You can build up to 6 days a week. For meditation, commit to a daily practice.
Choose when and where you will practice. It can be a time (8am) or it can be stacked with a different daily habit (after I drink my coffee.) Create a space in your home that will accommodate an easefulness in your practice.
Know that you won't be good for the first 10 sessions, maybe the first 50. Showing up is part of the practice. Be gentle with yourself.
There are a lot of resources available on the Peloton digital app, which is currently free for 90 days.
Which are your favorite upcoming classes at One Peloton?
I think everyone needs different things right now - but my latest 45min Intermediate flow and 10 min Kindness meditation are my current favs. I have lots of suggestions for different needs on Instagram - you can find me at @diti22.
One Peloton is offering a 90 days free trial. 
Is there any specific book or quote that you are using as guidance right now?
Touching into this moment is not about denying the suffering and devastation occurring in the world right now, but a way of being compassionate to us and those around us so that our innate wisdom can fully blossom. When confronted with gentleness and love, being present, reveals just how interconnected we all are with one another, but also with the planet that sustains us.
NEU WOMEN Q&A
Neu sustainable habit: Being plastic free!

Neu self-care/healthy practice: There are too many to list. I move my body a lot: strength training, yoga, running, cycling, kettlebells are all things I enjoy. Along with movement, I practice meditation. I do a lot to take care of my body too, including using compression boots, sauna, cryotherapy, and taking epsom salt baths.

Neu female voice: I'm currently obsessed with Jane Fonda, and her Fire Drill Fridays. Also obsessed with Phoebe Waller-Bridges. Both are absolute queens.

Neu inspiring book or news article: Currently I'm reading Radical Compassion by Tara Brach and Fair Play by Eve Rodsky.

Neu song obsession: Anything by Lizzo or Janelle Monae.

Neu go-to veg restaurant: I love abcV and all Matthew Kenney restaurants.

Neu spot to reconnect with: A bit of nature! Maybe an NYC park in warm weather.

Neu decompress routine: On a day off, coffee in the sunshine with no phone, preferably outside. On a weeknight, a hot shower, herbal tea, and either a book or quality time with my partner.

Neu weekend retreat: I work on weekends, so I rarely take trips, but I love my days off in Brooklyn!

Neu travel destination: I travel to India a lot, but on my list is Costa Rica, Paris, Maldives and the Galapagos Islands.

Neu everyday look: If I'm not teaching, high waist black skinnies, tucked in a Reformation tank or cropped sweater/sweatshirt. 

Neu sustainable brands you love: Neu Nomads of course. Also Girlfriend, Reformation and ADAY.

Neu Nomads favorite style: I'm in love with the Sydney Drawstring Jumpsuit! 
SHOP THE LOOKS