Fast Fashion in 2022 Unwrapped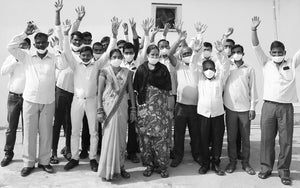 2022 is the year something shifted.
It might be our imagination, but this year felt different. This was the year it felt that sustainability in our society really took off. It was certainly the year of monumental changes in the way our governments discussed and legislated against the climate crisis, and we saw activism, peaceful protests and rebellion in 2022. Change is coming. We're entering 2023 standing on the cusp of a new era.
Yet in the fashion industry, there's still so much to do. The global fast fashion market just keeps growing – from $91.23 billion in 2021 to $99.23 billion in 2022. That's an extra eight billion dollars worth of pollution, microfibers, landfill waste and toxic trends pumped out and spewed all across our natural world. It seems like we're fighting a goliath in the fashion industry as we demand sustainability first, convenience second.
But that's what we continue to do: fight. After all, that is what Neu Nomads is about. We're the slowed-down, mindful little sister of the fast fashion bully, reining her in and shutting her up. Forcing her to recognize the damage she causes and demanding she change her ways.
As we wrap up 2022, join us as we unwrap the fast fashion industry and see why our fight for a sustainable 2023 is more important than ever.
The Problem of Fast Fashion
Once we peel back the glossy insta-stories of fast fashion brands, it's easy to see why fast fashion is a global problem.
Our oceans are choking in microfibers and microplastics. A single piece of polyester clothing can shed 1900 microfibres of plastic per wash, which works out to be about 1.7g of plastic every time it's put in the washing machine. Washing synthetic clothes releases 500,000 tons of microfibers into the ocean each year — the equivalent of 50 billion plastic bottles. Now, our oceans contain multitudes of plastic particles, washing up on shores and settling in the blood of every sea creature. In fact, for every 1000 liters of ocean water tested, researchers found 8.5 million small pieces of plastic.
Back on land, the situation is as dire. Unfortunately, 85% of textile waste in the USA ends up in landfill and the fast fashion industry produces 10% of all humanity's carbon emissions. Dyes, industrial chemicals and
Fast fashion isn't just a climate wrecker. It's also a human rights catastrophe. The production of synthetic fabrics has lethal consequences on the bodies of those who labor in factories. The men and women who toil every day making disposable garments work in terrible conditions, with low pay and back-braking hours. As they frantically create to hit their targets, 10,000 items of clothing are sent to landfill every five minutes.
Fast, fast, fast. The industry churns out its products as we throw them away.
The Antitheses: Slow, Sustainable, Mindful
The trouble with fast fashion is that it is a symptom of a wider problem. We're swept up in fast lives, with jam-packed schedules and to-do lists. We consume at rates that previous generations would have found unbelievable. Since just 2000 the amount of clothes that the average global citizen buys every year has increased by 60%, yet we only keep these clothes for half the time. The insta-feed hits refresh and we need a new outfit to be seen in.
So, what can we do about it? Well, we've found our answer in slowing down. Mindful purchases, clothes that hold special memories, well-worn faves that we go back to again and again. Fabrics that are built to last. Designs for every season. Letting go of the trends and reveling in our capsule wardrobe of pieces we feel fantastic in.
The antithesis of fast fashion is slow fashion. Fashion that takes its time on its way to you. Items that last and last and that you take the time to look after properly. Hand-washes, careful folding. There's something beautiful in getting back to the routine of taking care of our things and keeping them for a lifetime.
That's our philosophy at Neu Nomads: creating beautiful pieces for the moments that are with you forever. Your favorite Karlie Jacket, worn for your brother's wedding, that incredible job interview and the brunch in the city where you met your best friend. That soft Louise Cardigan you lived in when you brought your newborn home, and which you still snuggle up in when the nights draw in. Your gorgeous Easy Slip Dress – the one you were wearing on that beach when your husband proposed, and that you've packed for your work trip next week.
Our philosophy is clothes that are forever. That you keep coming back to. That are with you for every special moment and for every mundane office Monday. Not fast, but slow. This is the battle we're fighting. We're taking the rush out of creating a new garment. We're removing the waste, delivering thoughtful plant based clothing and revealing something you're proud to own.
Our Neu Year's Resolutions
We know that we're not fighting this battle alone. Our community of incredible female entrepreneurs, mothers, friends and daughters is behind us. Every purchase, every design, every time we wear something for life, it makes a difference.
Instead of making a neu new year's resolution, this year we're simply resolving to continue. We promise to keep doing what makes Neu Nomads special, to keep building our community and to keep serving you with outstanding designs that last. Our promise is always to create women's clothing collections with these values at heart. After all, it's here where the real difference is made as we become the change we want to see.
Everything considered, we're still hopeful. 2023, we're ready for you. And fast fashion? We're still working hard to wrap it up.
BEST SELLERS 2022