Here, There, Everywhere: The Easy Slip Dress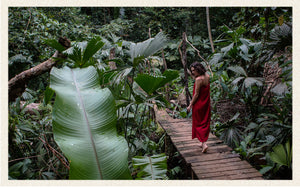 Shea Glaser in Bocas del Toro, Panama
From the tropical beaches of Hawaii to the perfect New York countryside and the magical Luxembourg Gardens in Paris - it's no wonder we named our best selling style the Easy Slip Dress. One of our favorites in our womens sustainable dresses collection, it's easy, chic and oh-so-cool.
Made with our signature plant-based TENCEL modal fiber, its loose and airy silhouette make it one of the favorite picks of our Neu Community of women.

Brianne Lauro in Hawaii
No matter the season, the destination or the occasion, this dress has been designed to layer it over a turtleneck while it's still cold, then wear it with sandals and a jean jacket once the weather warms up. Browse more outfit inspo in our women's tops online.

Robyn Youkilis in Paris, France and Blackberry  Farm, Tennessee

Kara in Steamboat Springs, Colorado
Plus, its easy relaxed fit adapts to all bodies and sizes, making it also a favorite essential for a lot of "Neu Moms." In Vogue Czechoslovakia Vogue Values January Issue, our friend and muse Petra Nemcova is only a month away from meeting her sweet baby Bodhi.

Petra Nemcova in Republica Dominicana
Kate Rockwell, Jasmine Garnsworthy, Sophia Li and Aditi Shah in New York