Introducing the SS23 Neu Rainbow 🌈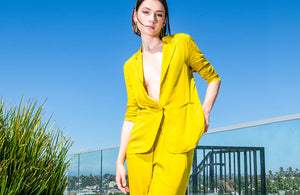 When it comes to this time of year, the runways take on a rainbow hue. 
Sure, when we think of fall and winter trends, colors are still critical. But the fall and winter runways always show the same shades: rich reds, forestry greens, and party golds. When spring arrives, that's when the rainbow comes out to play.
And this year is no different. We're thinking of the azure sea and the sharp clarity of the mustard yellow sand. We're embracing the periwinkle of a hot summer evening, and the juicy shades of apricots we bite into in their season. This year at Neu Nomads is all about the rainbow.
As we welcome our SS23 collection, read our hot takes on this year's biggest trends for spring and summer. 
Elevated Everyday 
Let's start with the SS trend that isn't changing: elevated everyday wear.
We've been noticing a shift in consumption in the last few years – a rejection of the passing, and a re-focus on permanence. Fast and impractical designs, unsustainable fabrics, and the relentless hamster-wheel of staying trendy? These are fads we'll gladly keep in the noughties. 
This year is all about simplicity. Tailored lines, classic forms and everyday dressing make up the basics. We're talking cleaner silhouettes but comfortable fits. Not trussed up — relaxed rather than snug.
In our new spring/summer 23 collection, we took this to heart. This year, as testimony to our ethos, we're focusing on essential shapes: you'll find our coveted silhouettes in time honored colors and vibrant new shades. Your well-loved favorites make another appearance, the Easy Slip Dress, the Karlie Jacket, your Allie Ankle Pants, echoing the sentiment that they are styles to be worn again and again.
Our stunning newest addition to the collection is the Sia Jumpsuit. Crafted from luxurious ruched fabric to create a soft, feminine flow, our neu shape is the perfect seasonal combo of dressed-up comfort. 
As always, Sia can be dressed down with your comfiest sneakers or your worn-in Birkenstocks, or teamed with elegant heels and a statement drop earring. From the beach to the bar, the city to the sunbed, Sia is ready for whatever all summer long.
Head-Turning Vibrancy
This season marks the reinstatement of simplicity and everyday dressing but in a head-turning vibrancy. To usher in summer, we're welcoming sustainable women's dresses, four neu colors to our regular palette. 
The shade of the season? Azure blue. Reminiscent of those long European summer days and that bright blue sparkle from the sea, Azure is starting our vacation early. All eyes on you in your Azure Cowl Neck Dress, you'll certainly make an entrance. We love the versatility of Azure: bright enough to turn heads yet not out of place in the boardroom, this neu shade of blue is a welcome splash of color to any outfit. 
And for when the sun sets over the Azure sea, we welcome the Peri of those long summer evenings. A deep, rich color between purple and blue, Peri is the shades of the early evening night sky. A twist on the vibrancy of Azure, your Peri Easy Slip Dress looks great with some silver sparkle as the day turns into night.
Bright as the sun, we bring in Mustard. Pops of life-giving yellow, Mustard is our color for the whole year. In the summer, embrace the vibrancy – wear the Sia Jumpsuit in Mustard and turn heads everywhere. When the winter comes, add your Mustard Karlie Jacket to your usual black suit pants for a reminder of that summer feeling. Against the bright blue sky, Mustard makes a statement.
For a subtle splash, meet delicious Apricot. An energetic orange that suits any skin shade, Apricot is here to stay. On your summer vacation, bring out the Apricot Cowl Neck Dress for a casual, elevated look after a day in the sun. Apricot is a soft, feminine, and understated vibrancy.
Mind-Bending Blur
As well as this feast of block colors, SS23 welcomes mind-bending prints and matching print sets.
Let us introduce you to Flower Blur.
Our modern twist on the retro, Flower Blur makes the most of sunset shades, unusual prints and eye-catching colors. We're playing it cool, uniting the Karlie Jacket and Diana Shorts in a summer print combination that's guaranteed to have all eyes on you. Or, keep it simple: throw on your Kerala Dress in Flower Blur for an easy, summer vibe.
Fresh neu prints provide you with some sweet patterned relief for the coming season. Easy, yet put together, Flower Blur is the perfect mix of feminine cool.
Neu Nomads for 2023 and BEYOND
While we're updating the rainbow, our ethos hasn't changed. 
We're creating a new season, but these designs are still made for every season. In our signature TENCEL™ and with our sustainable stamp of approval, our SS23 collection is created to take you from spring to summer, fall to winter. 
Wear Azure on the beach and at your Christmas party. Bring a splash of the summer sun to your January and wear your Mustard pants. Layer your Peri Easy Slip Dress with black tights, a chunky sustainable knitwear and your comfiest sustainable boots in fall. Your Apricot Cowl Neck Dress looks great even when the fruits aren't in season — feel the soft TENCEL™ layered under a cashmere cardigan and appreciate the softness of Apricot all year.
So, welcome to spring and summer. We've been waiting for you. But remember that fall is on its way again, and this year, we don't need to pack away our rainbow to greet it.