Neu Women: Julianne Fraser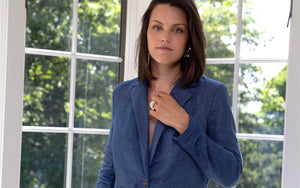 We met up with the inspiring and talented Julianne Fraser when the summer sun was still beating down on New York and its surroundings. Julianne had escaped from the city for a month to the house of her dear friend and upcoming Neu Women, Lauren Devereux, in Patterson after becoming a mom for the first time, welcome to the world beautiful Navy! 
Reunited and in beautiful company, we were able to spend one of the last summer's afternoons of the season surrounded by nature while digging into Julianne's extraordinary entrepreneur journey as Founder and CEO of one of the leading global digital marketing consultancy with an emphasis on influencer marketing: Dialogue New York. 
For someone who does not know who you are, how would you introduce yourself. Who is Julianne Fraser?
I define myself as someone who connects and unites others. I founded Dialogue New York with the intention to unite brands with creatives, forging meaningful dialogues that resonate. On a personal level, I love cooking for loved ones, hosting big dinners and uniting different groups of people over a good meal and a great bottle of wine.
Originally from Canada, why did you decide to move to New York and how did you start working in the influencer marketing field? 
Looking back on my childhood, it was obvious that I would move to New York from a young age. A blueprint of the Brooklyn Bridge hung over my family dinner table growing up and I have to believe subconsciously this planted the seed that would take me to the Big Apple years later. My mom took me on a trip to Manhattan when I was 15 and I distinctly remember walking up the subway steps, taking in the sticky, humid feeling of New York and the chaos of honking horns, turning to her and saying "I'm going to live here one day."
My opportunity came when I learned about the Fashion Institute of Technology and applied to their advertising and marketing program after completing my undergrad. That was 10 years ago, so I guess that makes me an "official" New Yorker. I serendipitously fell into digital marketing (from a school guest lecture!) and secured my first job at Ian Schraeger Hotels, right around the time Instagram launched.
DIALOGUE is celebrating its 5th year anniversary (CONGRATS!) Tell us a little bit about your journey as a female entrepreneur. Did you always know you wanted to be an entrepreneur? 
I didn't imagine I would be an entrepreneur, it happened unexpectedly. I was working at an agency prior to starting Dialogue and felt confident in my abilities to build strong client relationships and offer value in digital marketing. It was over brunch with a mentor that I was convinced to start something of my own and it happened very organically- with a handful of close friends who became clients, a laptop and a strong work ethic. I focused on producing great work and leaned on my reputation to see the consultancy grow. I'm proud to say five years later that all of our clients have come from referrals, we've supported brands all across the globe and have since grown into a team of eight.
Why is it key for brands to DIALOGUE and generate connections between all of their stakeholders?
I strongly believe that there's no secret to cracking the code on influencer marketing, no shortcuts, no industry tricks. A powerful influencer marketing strategy comes from building authentic and genuine relationships with creatives who stand by your brand and product. It's our job as digital marketers to make connections and develop creative campaigns that inspire influencers to spread the word. We do so lock-step with our clients, as an extension of their team, fostering genuine connections with the community.
One of the reasons we decided to feature Julianne's story was to dismantle the bad rep around influencers or around the term "influencer." Here, at Neu Nomads we are part of both worlds and believe us that we are faced with the same doubts and concerns when we have to define our own digital marketing strategy and also as consumers and followers of other brands.
As Julianne states, from a brand perspective, genuineness is important, but also the transparency and traceability of the messages we put out there in the world. 
Greenwashing is a big issue within the sustainable fashion field. What do you think about it and how can a customer detect when they are being greenwashed? 
I agree, marketers have taken liberties when it comes to sustainability, capitalizing on a trending consumer value for marketing purposes, rather than making business decisions that truly drive change. We advise all clients not to speak to sustainability unless it is truly baked into the business model, a core value and something consumers can support. Influencers can be a powerful tool to bring awareness and education around sustainability, we've seen this first hand with clients like Seed, Amédée Paris and organizations like the Sustainable Fashion Forum, but that is because these brands put their money where their mouth is and are genuine in their actions.
So, what is the key to building authenticity and trust? 
As much as the industry has changed, Dialogue's approach has remained consistent over the last five years. New platforms have emerged, creators have evolved and brands have become more digitally savvy, but at the end of the day, it's about building genuine and authentic connections between creators and brands.
And this was exactly what we aim to generate with the Neu Women web series. This space has been created to share with all of you the stories of independent female leaders like Julianne, not only as an homage and celebration of their work, but also to create a source of inspiration and reflection. 
Going now to your personal world, which brands and influencers do you follow and why? 
I love Jacquemus and the universe Simon Porte has created around the brand from Instagram, runway shows and retail pop ups. I love following creatives like Saasha Burns, Leia Sfez and Pernille Teisbaek for fashion inspiration.
How do you balance being a business woman and a mom?
This is something I'm continuing to discover as my daughter Navy is only four months old. As a libra, I thrive off of balance and am constantly seeking ways to be a present and a loving mother, while also pursuing my passion and growing my company. Being an entrepreneur, I'm fortunate to define a schedule that works for my family and team. It's a work in progress, but I'm very proud of the equilibrium I have crafted so far, it's very fulfilling. Of course I have my supportive husband to thank for it all too.
What is the next step/chapter for Julianne personally and professionally?
I feel I am just scratching the surface of what's possible for Dialogue. I'm so proud of my incredible team, the work that we do and what lies ahead. Personally, I'm excited to pursue my passion for cooking and entertaining, bringing people I love together in a memorable way. Not sure how that will look, but time will tell!


NEU WOMEN QUESTIONNAIRE
Neu mantra: Be the energy you want to attract
Neu self-care/healthy practice: weekly Tui Na massages
Neu female voice:  Meghan Markle's Archetype Podcast
Neu inspiring book or news article: Four Thousand Weeks
Neu spot to reconnect with:  Four Horsemen Brooklyn
Neu decompress routine: Cooking with a great glass of wine
Neu travel destination: Excited to visit Argentina next
Neu everyday look: high waisted jeans, a well-fitted cotton t-shirt, beautiful shoes and stand out accessories


JULIANNE IS WEARING