Sustainable Luxury for EVERY Women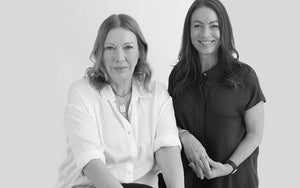 This International Women's Day, join us as we celebrate our community of incredible women that make Neu Nomads possible.
From Alka, Sneha and Dipti in India, to Sandra and Heide in Germany, to Gimena, Agustina, Tracey, Diana and Katelyn in the US, and all our customers around the world that bring Neu Nomads to life.
No matter where you are or how you found us, we're grateful you're here. Today and everyday we celebrate us all. Today, we celebrate you.
Love,
Karen & Angela  
Our community speaks
"I found this brand and dress through an influencer (Melissa Myers). I loved how she shared the versatility of it and all the outfit combos. Needless to say I was influenced but was skeptical of just how great it could be. BUT - WOW was I so surprised. The quality of the fabric and cut is fabulous. Everything lays perfectly, even for a wide hip girl like me. Also appreciate the cut of the neck line as it covers well yet still sexy and flattering. Absolutely do not hesitate on this dress. It will be a wardrobe staple for me!" Kristen D.
Diversity is what makes us, "us". 
We change. We age. We move into different seasons of our lives, our priorities shift, our bodies grow or shrink and our goals come and go. We deserve grace for this. But what doesn't have to change is our wardrobes. We believe in a better way of dressing, that ideal helped build our company and our community.
We're standing up against the endless cycle of fast fashion. We reject disposable culture, and we never stand for the idea that you're 'too old' or 'too young' for something!  
Instead, sustainable fashion at Neu Nomads is fashion that evolves with you. As we assume different roles in our lives, Neu Nomads organic linen dress and clothes are designed to fit new milestones. Like the Easy Slip Dress that has become the favorite style of our Neu Community.  
We create fashion that is lived in, and quality that lasts. A Neu Nomads wardrobe takes care of the details, bringing you simple, effortless style that helps you concentrate on what you do best: living your life freely.  
"I love Neu Nomads so much because I feel like this is exactly what you are — fuss-free (but gorgeous) slow fashion. To me, this means that I can simply toss on one to two pieces and be ready to go. I know that the piece is well-made, looks great, and feels amazing. It checks off all the boxes!" Danielle A. 
Versatility is the baseline of our designs. 
We know that in your life, you wear many hats and you need a wardrobe that works for you, not something that demands more time. You need easy options you can rely on to make you feel great every single time. You need high quality, sustainable outfits, in colors that simply go together, so the next time you're stressing about leaving on time the clothes you wear aren't another thing to worry about.
That's why here at Neu Nomads we create pieces that look great for any occasion. Clothes that aren't pretentious, but look and feel luxurious. 
Clothes that feel great, whenever and wherever you wear them.
Since we met back in 2019, Celebrity trainer, health and wellness coach, Amy Rossof Davis, chooses the Linen Boyfriend Shirt, Bias Cut Slip Dress and the Lotus Camisole and Cropped Palazzo Pants set for all destinations and occasions.  
"The Cropped Palazzo Pants are absolutely the best summer pants I've ever had. After purchasing a black pair I had to go online and order two more in cream and one more pair of black. They are the perfect year-round pants. You can dress them up or dress them down and they are definitely worth the price. The quality is there. I will be living in them all year." Connie H.
We're part of a revolution - a rejection of passing trends and a focus on quality that lasts a lifetime.
You know those court shoes your grandmother gave you? That oversized sweatshirt your mom lived in in the 80s and now is your go-to snuggle-wear? That cashmere scarf your great aunt left you that still smells like her?
That's the quality we're aiming for at Neu Nomads. The kind of classic form and fantastic handiwork that looks good at any age. Made from quality materials that don't fade and keep their shape no matter how many nights you fall asleep in them. The kind of pieces that transcend trends like the coveted Karlie Jacket.
Neu Nomads is a collection of clothes to share. Clothes to pass down. Clothes that become a part of your community. Share them, lend them, borrow them. They're classic, easy, relaxed. They suit everyone, and our inclusive sizing means they fit every BODY just right. 
Today, we celebrate you. No matter who you are or how you found us, we're grateful you're here.
MEET THE REST OF THE COMMUNITY 
SHOP THE LOOKS