Forever Linen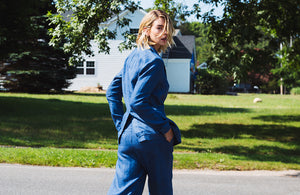 A look back at history makes linen the fabric of royals. Flax cultivation wasn't as common as it is today so the price of high-quality fabrics, and particularly linen was very high. It was typically only available to the highest echelons of society like priests, nights, and monarchs. 
We don't have to worry about a run on linen and flax shortages now, and can enjoy linen clothing no matter where we live, in any situation, while ensuring our environmental impact is kept low. Linen is a staple in our ethical fair trade clothing and we wear it all year round.
Here's why we love linen.
* Low Environmental Impact
Linen is far more likely to be ethically sourced because flax plant cultivation is much more sustainable than cotton. The plant requires much less water, is resilient, and can grow in harsh conditions with poor soil. Woven from the flax plant, it only requires rainwater for harvesting. It is also more versatile, allowing more products to be made using it and maximizing the yield of the plant. 
Since linen is recyclable and biodegradable, you don't need to worry about adding to the massive global textile waste count. Our linen is incredibly soft, durable, and is responsibly sourced and manufactured within the EU with GOTS and OEKO certified dyes. 
* Wearability
It doesn't matter if you have a formal, corporate, or casual event or day. Linen fits every occasion in style. Linen clothes are versatile and provide the kind of flexible wearability to buy less, and use it longer. 
If you live in a hot and humid climate, linen is the perfect fabric to keep you cool as it is breathable and light. If you have some colder months, linen clothing can be used as part of your layers to add some sartorial flair to an outfit without making you overheated and uncomfortable because of its softness. Whether you're in summer or winter, find the perfect linen look for you in our sustainable clothes collections.
* Durability
Linen fibers are three times softer than those of cotton. With fast fashion creating an ecological mess with all of the textile waste it produces, buying linen is a great way to keep your clothes longer, and waste less. Not only is this good for the environment, but the strong, high-quality linen fabrics in our clothes mean that you will be able to keep wearing your clothes longer than usual.
* What About Wrinkles?
Linen can get wrinkled from time to time, and most people make the association between linen and wrinkled clothing right away. A quick iron can help with that if you need it, but otherwise, we think it's great to embrace it. You live in your clothes and they will reflect who you are - especially when having a great time. Our linen collection is lint-free and becomes softer and smoother the more it is washed too!
Get in On the Action
We wear linen all year round, but with summer just around the corner, you might want to consider checking out our Spring/Summer 2022 Collection now and get your closet ready with some pieces made with the best material out there!