Neu Woman: Arielle Assouline-Lichten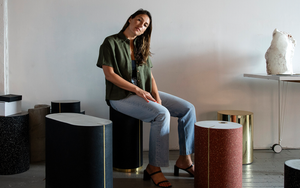 This month, we met virtually with Arielle Assouline-Lichten, an endlessly creative architect and modern furniture designer who is inspired by sustainability and the cyclical nature of things. Assouline-Lichten is the founder and creative director of Slash Objects — an award-winning design studio that has created some wonderful pieces on our wish-list.
Today, we're chatting about her inspiration, ideas, and approach to different media.
Arielle, thank you for taking the time to join us and welcome to the Neu Woman community! We always start with an introduction so, for those who don't know you, who is Arielle? What's your story?
I am an artist and multidisciplinary designer interested in ideas of materiality, ephemerality and the pursuit of form. I started my practice in New York and have been inspired by what the city has to offer in developing products and furniture. 
I studied architecture, which is the foundation of how I think about design, however I have always been interested in materiality and the smaller scale of products. 
Wonderful — with art, and fashion, there is so much inspiration to be drawn from other media. The architect can be inspired by the furniture, the fashion designer inspired by the architect's materials, it's all part of the same infinite muse.
One of the recurring themes in your work is using the old to build the new. Now, you create fantastic furniture pieces out of waste materials, keeping it out of landfill and putting a creative spin on what we often reject. What led you to this? How do you see potential in products others see as trash? 
My approach to furniture design is rooted in elevating overlooked source materials to create bespoke elegance with timeless materials. I believe there is so much value that we can capture from the leftover pieces that are byproducts of society. I love using the constraints of these imperfect materials as a driver to innovate and come up with interesting solutions. 
During our shoot for this piece we were struck by the similarities between the MARBLE print of your Karlie Jacket and your products, including your Red Jasper COEXIST Table Lamp which we just adore. For us, the marble print was inspired by classical art and the soft shapes of Italian marble. 
What inspires your creative process? How do you find inspiration in the everyday?
I am endlessly inspired by stone and marbles. I love the natural movement and coloration that the earth quite literally is made of and I love thinking about ways by which we can live with these materials around us. 
My work is often about connecting viewers with the experience of something being man made while simultaneously trying to create intrigue around where a material might come from. I believe that this links us to our earth and allows us to think about resources that are precious. 
We love that idea. The earth is in infinite flux and that marble is a snapshot of it all — the movement of the earth thousands of years ago. The appreciation of beauty in the everyday is a key value for us at Neu Nomads, and one we clearly share.
You spoke a little about the idea of the man-made and the curiosity of where materials come from there. Your work has been said to 'highlight the dichotomy between the natural environment and man-made processes'. What does this dichotomy mean to you, and does it manifest itself outside of your work? 
Elevating overlooked source materials such as waste marble or discarded tire rubber, is a way to address the excess of waste in the production of goods. By creating forms such as perfect cubes from a material like stone, we are faced with a man-made process that confronts industry and nature and the inherent friction between the two. I aim to draw people into my work and have them question how these materials came to be the way [I present them to be]. 
You recently presented your Ana Chair at Milan Design Week 2023, the latest in a long list of career achievements. Tell us, what is your proudest moment as a designer? What is your big career goal that you're still working towards? 
It was a great achievement to present a piece at Milan Design Week — something I have been dreaming about since I started in this field. 
As a designer, I still feel that I have a ton to explore and would love to collaborate with a luxury fashion brand to bring experiences to life. My New York design week show was recently named among the top shows to see which was an incredibly proud moment for me because it was the first time I put on such an ambitious project. 
Congratulations — we just love following your career as it blossoms. 
Your work ethos comes back to sustainability and living consciously in the natural world. Why is sustainability so important to you? How do you make sustainable choices in your everyday life?
I truly believe that we waste far too much and we can be so much more efficient with our resources. I like to reuse things as much as I can, like using a bag over and over again for my sweaty workout clothes. 
I try to limit or eliminate single use plastic as much as possible — I think in the future we will look back at this time when one meal could produce that much waste and be shocked that we lived so carelessly. 
We certainly agree. The infinite cycle of waste and consumption is overwhelming and it's absolutely true that we will look back in the future and recognize the absurdity of it all. One meal, one home, one person going about their day — without mindful consumption it's unbelievably easy to generate tons of trash and never realize it. Our space (our homes and offices) never hold this trash for long, but our wider space (the country, the planet) must carry the burden of it forever.
Furniture and design is all about space and how we occupy the spaces around us. Where's home for you? How do you make a space feel homely? 
Furniture really has the capacity to make a space feel a certain way. I have been living in Greenpoint for the last ten years and I have an original Loft that used to be a post office in Brooklyn. I love the high ceilings and airy feel. I just got a shaggy rug and Ligne Roset Togo Sofa which is making it super cozy. 
What does the future hold for Arielle? Where are you going next?
I'm always looking to challenge myself and hone my business skills. It's a lifelong process to be an entrepreneur and an artist and I never stop evolving, working on myself, and figuring out how to build. 
NEU NOMADS QUESTIONNAIRE
Neu mantra: Beauty as an agent for change 
Neu sustainable habit: Reusing compostable bag for sweaty gym clothes 
Neu self-care/healthy practice: Hot Yoga 
Neu female voice: AOC 

Neu inspiring book or news article:

The Artist's Way

Neu song obsession: Ciao Ciao 

Neu go-to veg restaurant:

Alula Cafe

 

Neu spot to reconnect with: Transmitter Park 
Neu decompress routine: Headspace 
Neu weekend retreat: Shelter Island 
Neu travel destination: Hydra 
Neu everyday look: Black 
Neu sustainable brand you love: Tekla 

Neu Nomads favorite style:

Linen Shirt
ARIELLE IS WEARING