Our FW23 Collection: Your Transition Season Playbook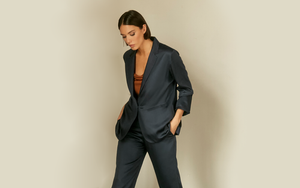 With the crisp crunch of fallen leaves underfoot, we're clutching a pumpkin-spiced latte to go. 'Tis the season of autumnal walks, layering up against the chill, and brushing the dust off our favorite winter boots. Welcome to fall, the most fabulous season of them all.
There's something about September and October where the atmosphere shifts. Cozy knits abound. We welcome back the rhythm and the routine of it all. And it's in these months when we do our favorite bi-annual tradition: refreshing our wardrobes for the neu season ahead.
This fall, join us as we take indulgent stock of our neu collection, curating five beautiful fall outfits that you'll come back to over and over again.
Welcome to FW23
But first, let's delve into the collection and what makes it our most exquisite yet. The FW23 collection is all about timeless, elevated simplicity in a palette of refreshingly cool neutrals. 
Mulch, Caramel, and Midnight are the unique base colors that combine for surprising matches. Midnight + Caramel is delightfully glamorous, Mulch + Midnight adds a unique twist on your darks, and Mulch + Caramel is a match made in the depths of color.
Then, gorgeous bold colors add richness and complexity to the palette. Cool June Bug brings a wintery twist to turquoise, and eye-catching Berry brings splashes of party pinks. All this color abounds in our effortless shapes. Ultra-glam showstoppers like the cowl neck gown mix with cozy textures of cashmere and flannel. Silky TENCEL™ adds movement and flow. Our signature soft suiting combines with feminine blouses, oversized shirts, and wide-leg pants for a versatile look that goes with you anywhere.  
FW23 is the story of cool glamor, neu neutrals, and effortless elegance.
Our Neu Collection Playbook
So, let's explore. Here, you'll find our favorite ways to style our neu collection, from elevated casual to twists on the traditional. 


The Twist on the Classic
First up, let's talk about our signature style: a feminine, relaxed twist on classic shapes. 
This fall, we're sporting soft suiting, with movement, layers, and textures. Soften those boxy, traditional lines with flowing, silky TENCEL™ and a wide leg pant. Our neu Sunita Blouse is the perfect mix of grown-up casual, with an elegant length, a flowing fit, and an ultra-feminine plunge neckline. 
Alongside Sunita, welcome the Betsy Blouse for feminine tailoring. A high neckline and tailored details around the collar make Betsy the perfect partner under a blazer, but chic capped sleeves add a feminine touch. Tuck Sunita or Betsy into Allie Ankle Pants for a casual office go-to, or leave untucked over your Marlene Wide Leg Palazzo for a relaxed twist on a suit combo.
Finally, in the twist on the classic, don't forget to get playful with color. Choose warm Caramel and Midnight for a fresh, modern twist on black and white. Add a pop of Berry or June Bug under Black for a delightful splash of something different. In FW23, the classic is constantly reimagined.
The Cream-on-Cream Look
One color we aren't reimagining this season is the creme de la creme of neutrals: cream.
Sophisticated and clean, cream is the perfect transition color that every fall wardrobe must have. We're wearing Ivory and Champagne everything this season, and our favorite creams are making a delightful reappearance from the summer season.
Why not make a statement with your go-to blouse in Champagne, teamed with our oh-so-cool Cropped Leg Palazzo in the same? The final touch? Get all wrapped up under the effortlessly glam Dylan Overcoat in Ivory — you're ready for anything.
Or, layer creams in different textures for a uniquely seasonal take on the hottest neutrals.
Choose your Easy Slip Dress in Champagne as a base, paired with sneakers or fall boots. Then, layer up with deliciously soft cashmere – we love the Aspen V-Neck sweater in Ivory. Accessorize with gold, and shrug on your Dylan Overcoat to beat the chill. Perfect.
The Bare-Leg Outfit
The trouble with the fall season? The weather is never certain. Flash showers and a surprisingly cold breeze mean you must be prepared for anything. To beat it, we love layers and a flash of bare-leg.
Don't pack away your Mika Dress just yet. In warm Caramel or cool Mulch, your slip is the perfect base for those warmer fall days. Finish with a Karlie Jacket, and you're good to go. Feeling the chill in the evenings? Bundle up a transitional dress (we love our Bias Slip Dress this season) with a layer of cashmere, or add your Ellen Shirt Jacket for a soft alternative to a coat. 
The Transitional Jumpsuit
As we welcome long nights to party in, Jolene is our neu go-to.
Long-sleeved and long-legged, Jolene keeps us covered against the cold, but a plunging neckline and gorgeously feminine tied waist mean we stay ready to dance all night long.
Under a Dylan Overcoat or on her own, Jolene is a versatile addition to any night out. 
And during the day? Don't leave Jolene at home. We're wearing her with sneakers and a chunky scarf to go exploring.
The Coziest Layers
But the best thing about the fall season? It's time to get cozy. 
Grab a hot drink and dig out your fluffiest socks. This season, it's all about staying home and snuggling up. With your favorite binge show on the TV and the rain lashing the windows, pull on that pair of your softest Cotton/Cashmere leggings and lock the doors. Fall weekends mean long nights on the sofa, relaxing and restoring.
In our latest collection, enjoy the coziest layers of organic cashmere. Match your leggings with a relaxed, sleek Cotton/Cashmere hoodie for an all-in-one look that takes you from the sofa to the city break.
Heading out? There's no need to get changed. Add your Dylan Overcoat and shove your sneakers on — relaxed glam in just a few minutes. Got to pop into the office? Take that cozy feeling with you by adding cashmere to your basics. Try the Tahoe Crew Neck over your Allie Ankle Pants for a classic look.
Your Looks for FW23
This season, simple, elegant, classic looks abound. With a fresh palette and varied textures, you'll have everything you need for a stunning fall wardrobe that works for you.