Neu Women: Ashley Wu, Founder Maison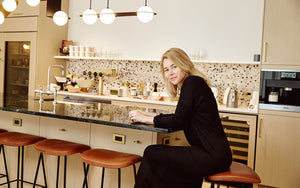 Neu Women was created by and for women engaging with the world in meaningful ways. Since its inception over a year ago, we aim to tell the stories of entrepreneurs, creatives and influential women exploring, discovering and building opportunities for themselves and others.  This homage each month is a celebration of their work, and a source of inspiration and reflection for our community.  Just days before the NYC lockdown, our team went to the farthest corners of Brooklyn and Manhattan to shoot and interview 3 incredibly different women, there was something in the air that day...talks of schools shutting down but no one had any idea that over 100 days later we would still be in the midst of a pandemic that would forever shape our society.  Today, after 4 months full of unknowns, uncertainties and emotional ups and downs, we are thrilled to introduce the story of a brave, strong and powerful Neu Woman that has finally been able to reopen her Manhattan based business.  We believe that the power of community has never been more important and the lockdown has made us realize the importance of human connection.  It's in this spirit of togetherness that we present our Neu Woman of the season, Ashley Wu.  
Ashley Wu, former fashion journalist, opened MAISON in 2019 - a multifaceted social club designed at the intersection of work and wellness.  After having her second child in 2017, she realized that being productive from home was getting more challenging everyday. Like so many other working mothers, she longed for a place to escape and spend personal time, but even in a city like New York there weren't any suitable options uptown. Getting your own space in NY can be cost prohibitive and isolating, small and crowded coffee shops are frustrating and inefficient when you only have a couple of hours to spare and co-working spaces and private clubs at the time were only downtown. "If you think about it, moms were really left out of the coworking conversation, if not by proximity of a space to go, then by the narrative of community, that is the life-blood of any club, that understood who they were and what their lives really look like." Ashley told New York Family magazine last year. 
When women start a family or they have to suddenly go through a worldwide pandemic, her interests don't disappear, but the time and space to indulge in things beyond work did.
"If anything, what we have gone through reinforces everything Maison has stood for since day 1 - prioritize yourself in regular, small ways, frequently.  I know women usually come in last on the list and I have always wanted to shine the light!, ring the alarm! on the fact that women, especially mothers, need to know it's ok to take some time for themselves in a place they feel looked after. Sadly, in times like this when we lose control, we realize there is no reserve to tap because we have become conditioned if we're not constantly moving forward, we're moving backward. I fundamentally disagree with this and my purpose is to give women a place to be still." Ashley Wu, Founder of MAISON.
Maison strives to be a place where passions, pursuits, downtime, quiet time, can coexist. Maison is a break in women's life beyond getting a green juice and doing a yoga class. Maison is a space for self-prioritization, where women can think about who they are, who they want to be, how they want to raise their kids, and what kind of legacy they want to leave. Because, as Maison's mission states: when women prioritize themselves, incredible things can happen. And we add: when women get together, they are unstoppable.
Get to know a little bit more about Ashely Wu with our Neu Women questionnaire. 
Neu mantra: Our family mantra is be brave, be kind. 

Love and hate moments during lockdown: I love being with my family all the time. I hate being with my family all the time. Haha! That's not totally true, but I have deeply missed my alone time. 

Neu sustainable habit: Shopping less for the kids! Especially Wilhelmina (sorry babes) even though it's so fun to shop for them, they grow out of stuff so fast, so buy small, independent brands and wear the shit out of it, and then pass it on to your friends 

Neu ideas or lighting moments that came to you during these 4 months: That there are parts of this pace of life that I like. Not being able to go anywhere definitely made me think about the places I would really want to go if I could. And those places are small dinners with close friends. 

Neu self-care/healthy practice: Well, as I'm answering this question while quarantining my personal self-care time has hit an all time low. Between homeschool, two kids, and work, time for ME is currently last on the list. So I'm trying to find the highs in tiny moments, squeezing in a Sculpt Society or Melissa Wood Health workout are keeping me going right now. 

Neu female voice: Be yourself, always 

Neu inspiring book or news article: Reading has always been something I love. I read when the kids are in bed and the house is finally quiet. I read Writers and Lovers, Jessica Simpson's memoir, my friend's book Thank You For Voting, How to be an Anti-Racist, and some old poems by Jack Gilbert. 

Neu song obsession: I have no time to discover new music so I love listening to my old stuff. Constantly playing French cooking music, Nina Simone, Fleetwood Mac, and Otis Redding at my house. 

Neu go-to veg restaurant: I'm not a vegetarian, but I love the veggie loaded dishes from Round Swamp and the plant-based meal delivery service, Plantable.  

Neu spot to reconnect with:  MAISON!

Neu decompress routine: In the city, my husband and I get to indulge in the most incredible foot massages. Not giving away our secret spot though! 

Neu weekend retreat: We have a place out east we try to get out to frequently. Fresh air and open spaces! 

Neu travel destination: I will always choose Paris.

Neu style icon: I love women who dress exactly as they please. I admire women who dress for themselves and wear what they love. 

Neu everyday look: Ha, it was Entireworld sweatpants and my Maison tie dye sweatshirt. But since the weather warmed up I'm in and out of the pool so in my Hunza G and GOOP swimsuits all the time. 

Neu sustainable brands you love: Neu Nomads of course! I also love Datura, and Stella, and anybody using deadstock, and vintage! 

Neu Nomads favorite style: I love the shirt dresses, they're so easy and versatile, and layerable! 
Are you interested in becoming a member of MAISON? 
The club reopened on Wednesday, July 15th, following all the CDC guidelines. 
Just to name a few: they implement temp checks on staff and members, requiring masks inside the space, and increase deep cleanings and regular sanitization of our club, among others. 
Applications can be submitted here. 
SHOP ASHLEY WU'S FAVORITE STYLES