Neu Women, Corinna and Theresa Williams, Founders Celsious Laundromat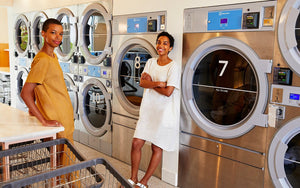 Since the release of the Neu Women series, we have been telling stories of independent female leaders, not only as an homage and celebration of their work, but also to create a source of inspiration and reflection for everyone that is looking to embrace a more sustainable lifestyle. Usually, we all tend to associate the importance of being "sustainable," "conscious," and "green" with recycling, organic food, fair-trade clothing, non-toxic cosmetics, plastic-free life, among others, and overlook our washing and drying practices when they should be just a natural extension of that mindful life we are all trying to adopt. That's why today, we are thrilled to welcome as our Neu Women of the month, the founders of CELSIOUS, a modern, eco-friendly laundromat that will revamp your laundry routine and more. 
Born and raised in Germany in an eco-conscious household, Corinna and Theresa Williams, learned from a young age to do laundry in machines that dispensed water at temps around 30, 40, or 60 degrees. In America they discovered a whole new scenario – one that is vague, imprecise, uninviting and careless when it comes to laundry.

Some facts: According to Fashion Revolution, up to 25% of each garment's carbon footprint comes from the way we wash and care for it. Around 60% of Americans wash their clothes with warm water without considering that roughly 75% of the energy required to do a load of laundry goes into heating the water, plus, the heat typically makes chemical reactions go faster. Most popular detergents, bleaches and softeners contain 1,4-Dioxane, sodium borate, and sodium hypochlorite, both skin irritants, as well as artificial fragrances, usually derived from petrochemicals – all of which act as toxins once flushed into our waterways (Environmental Working Group). And the list goes on. 
The Williams sisters saw an opportunity and decided to create CELSIOUS, the most energy efficient – and certainly the chicest – laundromat in New York.  Aside from the water-conscious Electrolux washers that text patrons when their clothes are ready and the chemical-free complimentary detergent, the space itself feels more like a hangout spot than a place to get stains out of your jeans. 
While you wait for your laundry to finish, you can relax at the café area or beautiful patio and enjoy coffee from Caffe Vita and a treat by nutritionist and chef Marissa Lippert. And, if you are looking to optimize your laundry time and engage with others you can explore their weekly programming including yoga classes, meditation sessions, tarot card readings and more.  
Beyond just making laundry day safer, the sisters hope to make it more enjoyable. See, doing your own laundry can be fun! Visit CELSIOUS at 115 North 7th Street, Brooklyn, NY 11249.
 MEET THE FOUNDERS
Corinna Williams
Neu mantra: If it isn't a clear yes, then it's a clear no! (from below book). It's literally my brand-neu mantra and I'm trying to live by it religiously every day!
Neu sustainable habit: Bringing reusable cups everywhere for everything – from coffee to wine
Neu self-care/healthy practice: Facial gua sa
Neu female voice: As in singer? Or advocate? If advocate, I will say Dominique Drakeford of @MelaninASS
Neu inspiring book or news article: Not "neu", but what I'm reading and being inspired by right now: Greg McKeown, Essentialism: The Disciplined Pursuit of Less
Neu song obsession: Every single one on Missy Elliott's ICONOLOGY
Neu go-to veg restaurant: Also not "neu", but I always find myself coming back to Dimes. It's also where my husband proposed :-)
Neu spot to reconnect with: My fav hot yoga studio, Modo
Neu decompress routine: Here's how I usually decompress on my days off: slow morning with coffee and reading at home, yoga/Pilates or strength training, post-workout lunch and hangs at Grassroots Juicery, a visit to the Farmer's Market and early evening meal prep, rounded off by some Netflix and natural wine 
Neu weekend retreat: I hardly ever go away on weekends, as they're our busiest time. I usually spend my days off in Brooklyn (see above).
Neu travel destination: I just visited Sicily for the first time this summer – definitely going back next year!
Neu style icon: Babba C. Rivera, who also happens to be an inspiration in all other areas of life and business.
Neu everyday look: T-shirt, leggings, Birkenstocks
Neu sustainable brands you love: Grammar NYC, Everybody.World, Sonia Carrasco, and Collina Strada
Neu Neu Nomads favorite style: Easy Slip Dress layered underneath the Organic Linen Cocoon Dress
Theresa Williams
Neu mantra:

Be gentle with yourself

Neu sustainable habit:

Not a new habit but something I naturally started doing after moving to NY is always keeping an eye out for curb finds. It's mind boggling how much furniture in great condition ends up in the trash here. The majority of my apartment is furnished with pre-loved items.

Neu self-care/healthy practice:

I'm notorious for skipping breakfast because I prefer to spend a few extra minutes in bed than making myself something to eat. So I started prepping massive batches of protein rich smoothies (fermented oats, white beans, green banana, spinach and raspberries is my current favorite), freeze them in single portions and let them thaw overnight in the fridge as needed. Now I can just grab a jar and eat it on my walk to work.

Neu female voice: Continuously in awe of Greta Thunberg
Neu inspiring book or news article: An article that hopefully helps to inspire more change in the traditional laundry industry: "$7 an Hour, 72 Hours a Week: Why Laundry Workers Have Had Enough" by Fabrice Robinet in The New York Times
Neu song obsession:

I have Sines by Greg Wanders on repeat at the moment. It's so soothing it instantly relaxes me.

Neu go-to veg restaurant:

I rarely go out to eat so don't really have any "go-to" restaurants. I love getting seasonal and local produce at the McCarren Park Greenmarket and then spending the day pickling, fermenting and roasting for the week ahead.

Neu spot to reconnect with:

I went to Fort Tilden for the first time this summer and even though swimming season is basically over I really want to go back and just walk along the beautiful beach. 

Neu decompress routine:

I just started incorporating a daily 15 minute meditation into my evening routine, which really helps me settle down, especially when I come home from work late and am wound up from a stressful day.

Neu weekend retreat:

For me the biggest weekend (re)treat is spending a whole day at home, sleeping in, meal prepping, meditating, working out; which still doesn't happen often enough

Neu travel destination:

I went to Japan for the first time this year and loved every second of my trip. Can't wait to go back!

Neu style icon:

80s Sade

Neu everyday look:

White jeans, white t-shirt or double denim

Neu sustainable brands you love: Grammar NYC, Ilana Kohn, and Amberlight Beauty
Neu Neu Nomads favorite style: The cocoon tunic over the peg leg pant in sand (love this color!)
SHOP THE LOOK
PHOTO CREDIT:  Kathy Boos