The Linen Edit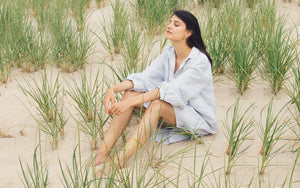 As summer fast approaches, we're shrugging off our winter layers and revealing breezy, relaxed linen underneath.
From a cool cover-up around the pool to an easy outfit for weekend city-strolling, it's no secret that linen is our favorite: for more of our musings on this incredibly versatile fabric, you only need to take a trip into our blog archives.
But linen is like an old faithful friend, and we find ourselves coming back to it year after year. Easy-going, comfortable, roomy, and chic, there's nothing more welcoming than our summer linen wardrobe.
So, as we start the spring clean getting ready for another glorious summer, join us as we unpack our latest linen designs and dare to start dreaming of those long summer evenings again. 
It's linen season, and this summer, we mean it.
Delancey: For a Relaxed Parisian Feel 
One of the reasons we love linen is how well it lends itself to a soft stripe. Delancey linen is the epitome of casual luxury: in eco-friendly fibers and a classic blue stripe, Delancey is suitable for anything.
The first out for summer is the Petra Shirt Dress in Delancey — an easy-going, luxuriously soft dress perfect for throwing on when the weather warms. Comfy enough to wear around the house and smart enough for that garden party, Petra looks great with some relaxed Birkenstocks and nothing else.   
You can't beat the Eileen Shirt & Riga Shorts combo in separates. Whether you're off to Riga this summer or not, a casual shorts-and-shirt outfit is our summer city go-to. Roomy Eileen is the perfect mix of boxy feminine, with mother-of-pearl buttons for a delicate final touch. Combined with the Riga Shorts, you're ready to go. 
Our style tip? While we love a matching set, we can definitely support a mix-n-match linen look. Why not team your Riga Shorts in Madison with Delaney for a new twist? Or the Eileen Shirt in Olive Night goes great with Delaney.
Whatever pair of Riga shorts you choose, don't leave the Delancey La Joya Top behind. Feminine and bra-friendly, La Joya is a great choice for any summer day. An easy look with shorts, La Joya's full shape works well with wide-leg linen pants too.
We 🤍 Summer Stripes
From Milan to New York, stripes are this season's next big thing. 
We're welcoming them to our summer collection in three contemporary takes on a linen classic. In Madison, we see subtle stripes in a grown-up navy, whereas Mercer presents a modern twist on an old favorite, with light gray on off-white. Don't forget Delancey, and you've got a trio to last all summer long.
You can find all your faves in our range of summer stripes, from the relaxed Petra Shirt Dress to the Eileen Shirt; striped linen is our casual go-to forever.
From Florida to IBIZA
Wherever you're heading this year (or even if you're just staying home), the Ibiza dress brings a touch of easy glam.
In classic black and white and made from the leftover fabric from cutting other styles, Ibiza is straightforward and casual. Adjustable tie straps bring a vacation feel, even if you can't get away, and a full-length flow adds a feminine touch. Ibiza is a firm Neu Nomads fave.
NEU IN: Our 23/24 Linen Styles
You don't think we'd let you get away without a sneak peek at our neu styles, did you?
This year, soft suits are IN, and a organic linen dress suit is all the rage. To celebrate, we're introducing the Karlie Jacket's oversized sister: Charlie. Relaxed and effortlessly cool, Charlie in linen is your perfect companion for those cooler summer nights. Roll up the sleeves for a casual look; Charlie goes great over a dress or jeans.
Back by popular demand, the Cara Palazzo Pants are here just in time for the sun. Recut in classic Black and our summer favorite white, these summer staples are feminine and easy. Wide-leg shapes to keep you cool. Finish with a crop top or a swimsuit, and you're ready to go.
But don't wait — the Cara Palazzo Pants have sold out two summers in a row, so we can't promise they'll be around for long.
Last but not least, we're bringing you a neu twist on a summer tunic. The easy-going Gigi Tunic has a modern high/low silhouette, a breathable form and a cool pullover style. With long sleeves, Gigi looks great as part of a linen suit on a hot summer working day. For a more relaxed feel, the Greta Tunic suits any occasion. In our signature linen stripes and with wide three-quarter sleeves, we're wearing Greta out over jeans, on vacation with our Riga shorts, and every relaxed Sunday morning.