Neu Women: Laura Baross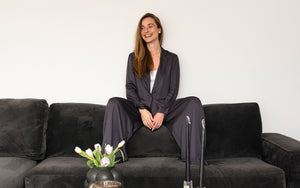 This month, we're connecting with Laura Baross — an architect, mindful space creator, and sustainable-life photographer living in NYC.
Laura is a woman we admire incredibly for her endless ability to do it all. On social media she has an audience of thousands, tuning in to her aesthetic brand of sustainability. As an architect and interior designer, Baross' design studio has worked for some of NYC's coolest brands and spaces, bringing her signature blend of the authentic, mindful, and purposeful. And if that's not already enough, Baross is also a photographer, living her design ethos on the other side of the lens.
The theme that runs throughout Baross' repertoire, however, is her constant focus on the sustainable. Today, we're discussing this theme, her creative journey, and how she balances it all.
Firstly, Laura, welcome. Thank you for taking the time to participate. We always start our interviews with an introduction so, for our readers who don't yet know you, who is Laura Baross? 
Thank you for having me! 
In the world of design, I would define myself as a multimedia artist that enjoys working in various artistic fields. While interior design is my main discipline, I truly enjoy switching media and regaining inspiration and focus whether it's via a lens of a camera, playing with clay or submerging in music. 
We humans are so multifaceted. I'm starting to enjoy being defined as more than just one thing. Having hands in multiple creative outlets keeps things interesting for me! 
It would certainly be difficult to pigeonhole you into one box! That versatility, of media, of space, of expression  is where we can see your creativity is at its most dynamic. 
Tell us about the journey you went on to be where you are now. How did you find
design and photography, and what made you decide to marry your special brand of creativity with an eco-conscious spirit? 
I grew up in Europe where I studied architecture, so interior design came naturally to me. My photographic skills started evolving during my studies at Pratt Institute and got enhanced by living in the world of social media, where having fine photographs plays a big role in the representation of your business and brand aesthetics. 
Turns out, being a multimedia artist compliments being a small business owner that has to wear many hats all the time. I started my interior design studio, DESIGN WITH CARE, in 2018 when I felt the desire to be hands on contributing to a greener approach through interior design. 
Since then it's been a complex journey — my day-to-day activities are filled not only with designing spaces, but also with marketing initiatives and content creation. Finally, last year we launched STUDIO DWC, a retail space/studio that is opened during summer on Block Island.
A recurring theme in all your work is the relationship between space and mindfulness. DESIGN WITH CARE of course creates spaces that ar purposeful, clean, and mindful, but with sustainable pieces that fit right in. Alongside your interior work, space and mindfulness are clear factors in your photography.
How important is that unity in your life?  
I believe the quality of our outer life is a reflection of our headspace. As a result, our inner world gets projected into the spaces we dwell in — have you ever noticed how messy your home turns when you have a lot on your mind? 
But more importantly (and this is where my design craft comes in handy) I also believe that the interiors we are surrounded by have the power to influence our moods, help set our minds to achieve goals, inspire healthy habits and overall have an impact on our self esteem.
That's so true – creativity abounds in a space that allows it. We've often found that a change in environment helps us see a problem from a different angle, or prompts that shift in mindset that sparks inspiration once more.
How does your approach to mindful design manifest in your personal space, and how do you create that mindful space for your clients?
I discovered mornings are the best time of the day to dedicate to my mindfulness practice. I usually pick a specific area in the room (even if I travel) where I can tune in with myself: Sometimes I like to meditate, sing, journal, or read a few pages from an inspiring book. I allow space for spontaneity in my morning rituals, but almost always I have zen music playing.
Bringing mindfulness to any interior involves creating an environment that fosters tranquility and allows our individual souls to express themselves and connect to the present moment. I usually work with one client for months, sometimes years and in addition to selecting furnishings and decor sometimes we have the opportunity to have conversations about how they can implement mindfulness into their homes. Each individual may have different preferences and needs, so I'm personalizing their interiors to align with their own sense of beauty and peace. 
I encourage my clients to declutter their space and remove unnecessary items that can contribute to a sense of chaos. A tidy and organized environment can help promote a calm and focused mindset. I also like to integrate natural elements into the interiors that I create, such as plants, natural light, or stoney finishes. These elements can evoke a sense of serenity and create a closer connection to the natural world. I'm inclined to choose soothing and calming colors for the walls and furnishings. Soft, earthy tones or cool, muted hues can help create a peaceful ambiance, and allow my clients to bring in their personality with pops of color via objects and art they already own.
Great tips. We love looking to the earth for our inspiration, and your invitation to invoke the earth's softness with pieces we already own is one we will take you up on.
Oftentimes we think design and art means creating something new, yet we have all we need. We see this at Neu Nomads; in a world where fashion means endlessly creating, manufacturing, and trend-following, it's a creative and radical act to take a pause and find beauty in classic, timeless design. We're always imagining new ways to wear and style the pieces we already own, and that's fundamental to our ethos. 
At DESIGN WITH CARE you place a special emphasis on reusing, refusing, and reducing the things you need. How do you live this value in your business, and how do you recommend readers apply this in their own lives?
By being aware, we can inspire others to make more informed choices and promote mindful living. 
For us it's about finding a balance between design trends and client preferences and try to not always prioritize aesthetics over sustainable choices. While we recognize that it is essential to foster a shift in mindset within the industry and among consumers, it is important to acknowledge that achieving sustainability in interior design is challenging.
At DESIGN WITH CARE, we aspire to work with like-minded brands to help amplify their voices and we also try to reuse what has already been created via secondhand and vintage decor selection when possible. 
Despite the challenges that sometimes present, the efforts put into sustainable interior design practices, no matter how small, can still be meaningful and contribute to positive change. Every conscious choice, from reusing furniture, selecting eco-friendly materials and finishes, considering their life cycle, to incorporating energy-efficient lighting, helps to reduce the overall environmental footprint.
Absolutely. We agree that awareness is key. We as individuals are empowered every day to make choices that align with our values, from the spaces we inhabit to the clothes we wear, making sustainability part of our routine is crucial.
Taking on this burden of individual responsibility is so important, but it can be mentally challenging. Do you ever feel burned out while spreading this message? How do you overcome this? What do you focus on to see the positive?
Oh, yes. To maintain positivity and prevent burnout, it was crucial for me to take a break and step away from online activism and the constant stream of disastrous predictions. For years I was experimenting with a low-impact lifestyle and the frustration of not seeing immediate environmental results can be overwhelming.
Looking back, I recognize that trying to produce less waste/have a smaller environmental impact also put me in a stagnant mindset which was harsh for my creative soul. It got to the point where in order to prevent overproduction, I was scared to produce anything at all and my creative energy wasn't flowing. 
Engaging in self-care activities, mindfulness practices and new crafts is giving me a sense of rejuvenation. Actually, pottery is what helped me overcome this block. My first ceramics teacher, Sarah Lerner, helped me get excited about creating something with my own hands and reconnect with art in the purest child-like way, through clay.
I still care a lot about the future of our planet, but I also believe that nothing good comes when we act from a place of fear. By continuously striving to improve and make conscious choices, we can collectively make a positive impact on the environment. But it's also important to recognize that sustainable change often requires systemic shifts and collaboration across various sectors. Putting excessive pressure on individuals might not be the most effective approach. Instead, focusing on advocating for systemic changes and engaging with policymakers can have a broader impact.
Yes, it is about balance and recognition; while we can be empowered to make individual changes, we are just one part of a greater whole. We must work together with our systems, and with other individuals who share our values, to maximize our impact. 
In true Laura Baross fashion, you've been working to bring another dream to life, and your new retail store in Block Island is opening this year. What is the vision behind it? What brands can people find there?
STUDIO DWC on Block Island launched with the vision to expand our services outside of NYC and meet design enthusiasts that travel through this wonderful destination. 
We created this space to talk about all things design, hold client meetings and for those that just wander in for the shopping experience, we offer a curated collection of lifestyle products that will add a touch of magic to their homes. 
We offer a selection of brands and artists that consider their environmental impact, such as, Grammar, Maison Louis Marie, Mater, Riddle, Oil & Water, Le Marké, Maja Planet to mention a few. Of course, we're planning on adding Neu Nomads to the growing list of brands we carry.
You've built such an incredible personal and professional brand which is so diverse and multifaceted. We've loved following your journey, and we know that your audience does too. 
So, what's next for you? What does the future hold for Laura Baross?
I deeply wish I'll be able to carve out enough time in my day -to-day life to maintain the essence of artistic versatility, intertwining multiple fields of art into my existence. 
As an interior designer, I'd love to expand my skills and keep creating spaces that transcend peoples homes and make them feel happy. For STUDIO DWC, I'm envisioning our own line of designer products. Overall I wish to be a kind and loving being that has enough energy to take on many projects during this fun experiment called life.
NEU NOMADS QUESTIONNAIRE
Neu mantra: Starve the Ego, Feed the soul
Neu sustainable habit: Composting
Neu self-care/healthy practice: Mindful Mornings

Neu female voice: My Mom & Founder of

Maja Planet

Neu inspiring book or news article:

My new favorite Divine Feminine Cards by Alana Fairchild

Neu song obsession: Lianne La Havas - Green & Gold 
Neu decompress routine: Peloton Workout

Neu weekend retreat:

Tourists

in North Adams

Neu travel destination: Block Island
Neu everyday look: White Tank Top + High Rise Pants + Oversized Shirt + Veja Sneaks
Neu sustainable brand you love: Kjaer Weis
Neu Nomads favorite style: Organic Linen Dress and White Linen Suit Set, the

Charlie Jacket

+

Cara Palazzo Pants
LAURA IS WEARING