Neu Women: Bianca Valle, Holistic Nutritionist, Artist and more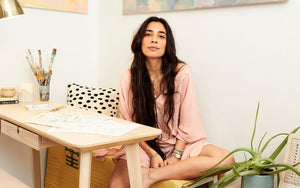 We are thrilled to welcome Bianca Valle as our Neu Women of the month. This 25 year old with Mexican roots is a true one of a kind. Holistic Nutritionist, writer, painter, photographer and runner, this determined young creative show us that there is no one path to follow, if you have the energy and the passion to pursue different things, why not? It's all about being true to yourself and connecting with the world around you. 
Born and raised in San Diego, California she always knew that the big city was her destiny. After graduating from NYU with a major in Film and a minor in Art History, her constant restlessness opened up opportunities of big industry players like Refinery 29, Milk Studios, Milk XYZ, VFiles and Nylon Magazine where she landed as Beauty Editor. But it was bad news that turned out to be one of the best things that happened to Bianca. When the printed magazine folded, this "Rising Beauty Star" - as Vogue crowned her-  had the opportunity to reorient her entire life and find a way to combine her love for healthy food, skin care, painting and photography. She made a career pivot to holistic nutrition and then combine it with her artistic side to hand-write and illustrate a wellness zine, of which we had the honor to read the manuscripts. 
In "A Note on Wellness" Bianca outlines her food philosophies, recipes, grocery lists, workouts and much more with the objective of making the power of eating well more accessible and help people finding out their food formulas. In addition, to be more connected with all her readers and address these issues, she recently launched a self funded nutrition hotline where anyone can text her to set up a 20 minute call with her to talk all things food, fitness and wellness. 
There is nothing that we admire more than a story of a woman finding her own path. A path that will always have ups and downs, but if it's pursued with kindness, consciousness and above all passion, it will always find it's happy ending. 
Neu mantra: Be good 

Neu sustainable habit: Reusable water bottle

Neu self-care/healthy practice: Sauna at the Higher Dose

Neu female voice:  Stand for self love and nourishment

Neu inspiring book or news article: A Return to Love, Marianne Williamson

Neu song obsession: Vundabar, Holy Toledo

Neu go-to veg restaurant: Wild Ginger

Neu spot to reconnect with: Dimes

Neu decompression routine: Take a day off

Neu weekend retreat: Upstate New York

Neu travel destination: India

Neu style icon: The streets of NYC

Neu everyday look: Confidence

Neu sustainable brands you love: Backbeat rags and Neu Nomads

Neu Nomads favorite style: All your loose and lovely styles
SHOP THE STORY
PHOTO CREDIT:  Kathy Boos