It's Official! No Capsule is Complete Without This Organic Linen Dress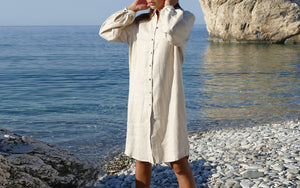 We've been long-time fans of the capsule wardrobe. Our ethos has always been about buying carefully — looking for those beautiful, timeless pieces that last and last – then wearing and re-styling them again and again.
Capsule wardrobes are small acts of rebellion against a culture that prioritizes consumption. A great, well-designed capsule is about shapes and colors that work together and that recombine for outfits to suit every season. 
But one of the most overlooked aspects of a capsule? The type of fabric in your collection. It seems to us that colors and styles reign supreme, but sustainable, plant-based fabric that lasts, that's the real key. 
And so here we are to remedy that.
Your Capsule Wardrobe Necessity: Plant-Based Fabrics
 First up, let's make one thing clear. Not all fabrics are created equal. 
Polyester and processed fabrics are abundant, versatile and cheap, but not great for the planet we call home. Each wash releases thousands of microplastic fibers into the water supply, and poisonous dyes and harmful chemicals used bring a human cost to every garment made.
In your capsule, replace your polyester with TENCEL™ – the plant-based alternative to bright nylons. Lightweight, hypo-allergenic, and silky-soft, TENCEL™ is versatile and just feels beautiful. Our tip: hang your TENCEL™ up in the bathroom when you take a shower and you can watch the creases fall out naturally – no need to iron!
As for synthetic knits and polyester wool knock-offs, we recommend the real as an alternative. Sustainable (if farmed transparently), long-lasting, and gentle on your skin, wools such as cashmere are the perfect fabric for a capsule wardrobe as the chill draws in.
 But by far our favorite for the summer time, and perhaps the most overlooked fabric in our collection, is organic linen. Breathable, dynamic, sustainable and infinitely chic, organic linen deserves a place in every woman's wardrobe.
Why overlooked? Well, let's face it – linen has a reputation for being a summer fabric. And we get it! Linen looks great on the beach and around the pool. It's so lightweight and breathable it keeps its cool even in those intense summer days, and we won't deny our linen collection always has a hint of suncream when we pull it out. We're long dreaming of those summer days.
But linen doesn't just have to be for summer. In the winter, we love linen over jeans and under a large overcoat. We love linen and cashmere as a uniquely textured take on layers. We love the feeling of organic linen against our winter dry skin.
Simple shapes in soft, luscious organic linen. That makes a capsule.
The Organic Linen Dress Every Wardrobe Needs
So what are we stocking our capsule with this summer? The top of our wishlist is our most in-demand organic linen dress: let us (re)introduce you to Petra.  
Made lovingly from the softest organic linen and in the most versatile shape of the season, Petra is coming everywhere with us. In neutral champagne, Petra works over your skinny jeans teamed with wedges for a girls night out, or layered over a tight jersey LBD. On the beach, we wear Petra open over our bikini, or with sandals and gold hoops for a city break stroll. 
But linen isn't just for the hot weather. In winter, layer Petra  over tights and boots. Add a chunky knitted scarf and an overcoat and you're ready for anything. In the fall, Petra works over jeans layered with a tee. Gold jewelry complements the champagne - stack dainty necklaces for a glimpse of sparkle around your neckline. 
It's clear. Petra is our neu go-to, no matter the occasion. In simple lines and made from gorgeously indulgent organic linen, she's breathable, chic, and easy. But, don't wait. Petra's proving popular and we're almost sold out of our organic linen range. If you want to take Petra home, add her to your cart now.