Neu Community: Your Thoughts on Our Designs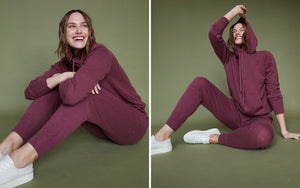 We're blessed with the best customers, that's for sure.
Here at Neu Nomads, we think of ourselves as being a community. We love each and every one of you. Our hope is that we inspire you as much as you have inspired us to create versatile, stylish and sustainable clothes with this community at their heart.
So, nothing gets us more excited than reading customer reviews where you share what you love about our designs. Our aim has always been to design staple, essential pieces for your wardrobe that last. We are unbelievably proud that you think we're doing just that.
In this post, join us as we take a trip into our customer reviews.
Quality for Season after Season 
We like to think of ourselves as the antithesis to today's consumerism. We're part of the revolution – a rejection of passing trends and a focus on quality that lasts a lifetime. We design clothes that are true essentials: they'll never go out of style. Instead of fast-fashion purchases that fall apart after a wash, or make you sweat and irritate your skin, we create pieces that are your firm favorites for years to come.
Our cozy lounge faves? Of course it's the Cotton/Cashmere Hoodie and Cotton/Cashmere Leggings. For this holiday season we're wearing these soft sustainable bottoms Christmas morning for gift unwrapping and hot-chocolate drinking. Your thoughts?
What a combination!!! I purchased the leggings and hoodie and these are the softest and most comfortable clothing ever to come along.
But hurry! At the time of writing this blog, these leggings are almost sold out!
Not just for bottoms, we created our collection of sustainable women's tops to look great and last and last. Taking us from day to night, it's got to be the Celia Blouse. Your thoughts?
This is such a beautiful addition to my wardrobe. It is soft, shines just right, and can be for day or night. I love this top and will purchase others, in fall colors, I hope 😉
Our current seasonal go-to is the Cropped Palazzo Pants. Styled with a chunky boot in the NYC winter or with a crop-top in the Barbados sands, the Palazzo Pants are coming with us everywhere. Your thoughts?

They are absolutely the best summer pants I've ever had. After purchasing a black pair I had to go online and order two more in cream and one more pair of black. They are the perfect summer/travel pants. You can dress them up or dress them down and they are definitely worth the price. The quality is there. I will be living in them next summer.
@amyrosoffdavis showing subtle style and comfort in the Cropped Palazzo Pants in Los Angeles. Flowing lines and dynamic movement make the cropped Palazzo an ideal yoga partner, yet relaxed professional style means these pants aren't out of place in the office either. The perfect base to your 2023 capsule.
Your Forever Favorites 
Alongside quality, our fundamental belief is that Neu Nomad purchases are forever. They're styleable in winter, layered with knitwear and soft, cozy coats, yet they're summer staples, keeping you cool after a day on the beach.
The Bias Cut Slip Dress is the perfect example of this. Versatile, chic, sexy and cool, it suits any occasion. In the winter, layer under a chunky sweater and accessorize with gold hoops. In the summer, you need nothing else. Your thoughts?
I LOVE this dress!! That is why I got two of them. The one in red is especially sexy. It's a knockout. And the fabrics are heavenly in everything made by Neu Nomads!
The Kerala Blouse is another fan fave. Perfect 'for the Florida heat', yet 'so comfy you can sleep in it'. It's flatteringly low cut, with a skimming drape and luxuriously soft TENCEL™. Your thoughts?
Obsessed with this top… now have it in three colors. Can dress it up or down and is so flattering!
The perfect combo with any of our Neu Nomads pieces is the Karlie Jacket. Layered over slip dresses, combined with the Palazzo Pants, or at work with a smart blouse, Karlie is just right for any event. Your thoughts? 
A super chic blazer that you can wear alone or layered. A go-to piece in my closet now!
The Essentials Shirt Dress is another firm capsule wardrobe favorite. In cool TENCEL, soft and gentle on your skin, the Essentials range is a base for every event. Your thoughts?
This is not only a shirt dress, but a huge staple in my capsule wardrobe. I pair it with my loungewear, dresses, and wear it on its own. It even looks amazing with black TENCEL work pants. All round gem!  
@jamillemorales in the Essentials Shirt Dress in Cape Town: beautiful, simple and effortless dressing for wherever your nomad spirit leads you.
That Neu Nomads Personal Touch
But no community is a community without care, and for our customers we care from the heart. It isn't enough for us to create clothes, we love to add that special touch, and welcome you into our Neu Nomads tribe with every purchase. From our inspirational Neu Women to our passion for sourcing ethical fabrics, every step in the Neu Nomads community is valued and appreciated. We hope this comes through in our service to you.
I emailed about purchasing the Berlin dress, which was from a past season and they hunted one down for me in the warehouse. Amazing to get such personal service. Excellent communication and customer service!
… and feedback from our Essentials Shirt Dress …
It would be enough for the essential shirt dress to be this great (fit, fabric, style, everything fantastic), but it arrived to me in Canada so quickly, and with amazing customer service along the way. I cannot wait to order my next piece from Neu Nomads. Thank you!!!!!!!
@madison.utendahl in the Bias Cut Slip Dress looking cool in her Brooklyn apartment. Simple summer vibes, easily accessorized, the Bias Cut Slip is the epitome of Neu Woman style. It's easy, fun and comfortable, like the best of friendships.
Grateful: Our Final Thoughts
Neu Nomads was born from a zoom call and an earnest dream of reimagining the fashion industry into sustainable, accessible clothing that lasts. We've come a long way since that first zoom!

We're grateful. Thank you for your wonderful words and thank you for becoming continued members of our worldwide tribe. We feel sincere joy from being a part of the Neu Nomads community, and we are so happy to read that you do too.

If you have some feedback to share, why not send us an email at contact@neunomads.com — we would just love to hear from you.
SHOP THE LOOKS