New Year, Neu Destination: Hamburg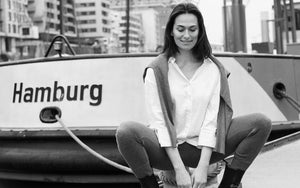 For our 1st Neu Destination of the year we teamed up with the talented @christine_rogge behind the camera and beautiful @sandrablesser to take you on a trip around one of the most exciting and historic cities of Germany, Hamburg, while discovering our most coveted fall/winter styles. 
Officially named 'Free and Hanseatic City of Hamburg' for its historic tradition of self-governance and autonomy, Hamburg is a city of superlatives: the biggest, the most, the oldest. It has the biggest and busiest harbor in Germany, most of Germany's major media, the oldest stock exchange in Germany, more bridges than Venice -- and even the world's largest fitness studio.
To start a chill moment at Sandra's home in a luxurious, comfy and versatile TENCEL set: The Boyfriend Shirt and Wide Leg Palazzo Pants.
Later, a morning walk around the port city and Hamburg Hafencity - the most ambitious inner-city development in Europe - in the perfect combination of soft, warm and eco-friendly fibers: 100% Organic Cotton Flannel and Eco-Cashmere sourced from Mongolia. 
To close the day, a visit to the shores of the Alster Lake, a literal urban oasis in the heart of Hamburg's spectacular downtown. During summer, locals sail its waters and enjoy the beer gardens that line it. Hamburg's traditional drink, Alsterwasser (a mix of beer and lemon-lime soft drink), flows freely here. Sandra is wearing one of our best selling styles: the Jana Dress. 
SANDRA's FAVORITE TRAVEL ESSENTIALS