Neu Women: Jasmine Garnsworthy, Founder of The Buff Skincare and Fairwell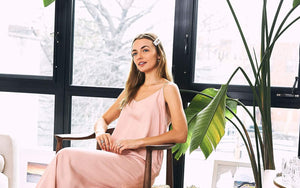 If you are at the forefront of every burgeoning beauty trend known to womankind, you have probably read an article by Jasmine Garnsworthy at  STYLECASTER, POPSUGAR, Allure, Refinery29, Racked and Byrdie. 
Jasmine is the self-described "skincare-obsessed" founder of the natural beauty brand, The Buff.  And if that weren't enough - she's also a freelance writer, editor, and content producer based in New York. In 2016, she summoned all of her beauty prowess to battle her own skin conditions and, in doing so, she helped others to follow suit. What started as a chronic acne outbreak led to a journey that transcended prescription creams, antibiotics, and expensive dermatologist appointments.  Plunging deep into the world of clean and pure ingredients, ultimately led her to the creation of her own natural beauty brand.
Why we love it? The Buff is helping women take charge of their own beauty routine through personalized skincare with natural, clean and uncomplicated ingredients.  Based on the results of an interactive skin quiz, The Buff will customize face and body oils that are perfectly formulated for your skin. And it gets better, the products are vegan-friendly, use the best quality cold-pressed and unrefined ingredients, and even lets you monogram and customize your packaging.  
We agree with Jasmine, there is no such thing as one-size-fits-all when it comes to skincare and we believe that this also applies to those seeking to embrace a more sustainable life. There are no quick and magic solutions, knowledge is power and we can all start by implementing "Neu" simple decisions and actions in our daily life.
Find out how Jasmine is doing it.
Neu mantra: I'm really loving "the time is now the place is here"nothing else matters except for the here and now"

Neu sustainable habit: Carrying my own reusable coffee cup. Coming soon!!!

Neu self-care/healthy practice: Anytime I feel sick I go to an herbalist. Even if I'm not acutely sick I still my herbalist. Daniela Turley - she's the best!

Neu female voice: Sophia Roe

Neu inspiring book or news article: Right now, I'm reading "Into the Magic Shop" by James R. Doty - I literally started yesterday and I can't put it down. It's about a neurosurgeon and  how intention setting changed his life.

Neu go-to veg restaurant: By Chloe + Divya's Kitchen

Neu spot to reconnect with: Take Care Face and Body in NYC - they do a lot of natural and holistic treatments and one of the estheticians does craniosacral therapy

Neu decompress routine: A long hot bath and reading a book

Neu weekend retreat: I feel like it should it be close but to be honest I prefer to go to London which feels like home

Neu travel destination: Would love to go on safari in Africa

Neu style icon: Grace Kelly

Neu everyday look: Pretty midi dress, pointy low heel shoes, and a colorful bag. Currently you can always find me with a gorgeous pearled hair clip.

Neu sustainable brands you love: Nanushka, Reformation, Auguste, Brother Vellies, Ulla Johnson, Neu Nomads  and I am actually launching a sustainable ceramics company very very soon so stay tuned!

Neu Nomads favorite style: The 3 in 1 Jacket-Robe-PJ Top and Wide Leg Palazzo Pants set in Rose Pink- they're extremely soft and comfortable!!
 SHOP THE STORY