Neu Women: Lauren Devereux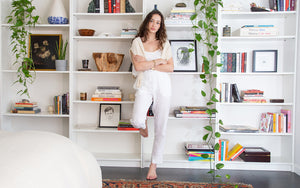 Storyteller, jeweler and new mom Lauren Devereux opened her heart to us this month to discuss the power of mementos and the role of jewelry in her new journey of motherhood. We met up with her in her fabulous house upstate on a bright, sunny morning, where the conversation and the coffee flowed. 
Lauren is CEO and Founder of The Devereux Collection, a fabulous jewelry brand  that harks back to traditional beauty values that last for generations. Each of Lauren's designs is handcrafted by artisan goldsmiths here in the Big Apple and is made from the finest recycled 14k gold. Her designs are dreamed up from a lifelong passion for jewelry making and antique-hunting, and her passion for shape, form and sustainability make Lauren a natural Neu Woman inspiration for us.
Read her story below.
Hi Lauren, thank you for sharing your story here. We've been long-standing fans of your fantastic designs here at Neu Nomads, and it's a pleasure to connect with you and learn from you. Your values of simplicity, timelessness and beautiful pieces to collect and treasure resonate with us at Neu Nomads. 
Let's begin with an introduction for our readers who aren't yet familiar with Devereux. 
How would you introduce yourself to someone who does not know who you are? Who is Lauren Devereux Burns?
I'm a sentimentalist, a storyteller, a mother, a listener, an investor, and a friend. 
We love that. A mother, a friend, a storyteller and an investor often share the same approaches to situations. We believe in, and help raise, the future through narratives, persistence and growth. That's certainly true when you're an entrepreneur or a parent. Entrepreneurship is about telling stories about what you believe in and your vision, plus finding the time to invest and do the hard work. The best entrepreneurs, though, always keep sight of their relationships and connections – we're friends, partners, and mothers first.
Tell us a little about your story: your roots, childhood, family, and dreams. Have you always been called to connections with jewelry?
Jewelry has been my passion for as long as I can remember. Making jewelry has been a hobby that has connected generations of women in my family as we gathered around the kitchen table, sharing containers of beads, metal wire, tools and thread.
My first job in high school was at a local bead store, where I taught classes on how to create pieces that our customers would cherish. I'd take my paycheck and hit the streets of local flea markets, looking for little trinkets I could take home and rework. I have always
loved the stories in those tiny objects — the rings given as anniversary gifts, grandmothers' necklaces passed down to granddaughters. I felt I was keeping those tales alive by giving them a second chance.
In college, the studio where I took goldsmithing classes became my sanctuary. The rest of the world seemed to fall away when I had tools in my hand. For years thereafter, I convinced myself that I couldn't possibly do this for a living — that work was supposed to be hard and serious. 
At some point, I finally let myself test the idea that, actually, it didn't have to be. I haven't looked back.
It's undoubtedly true that passion can become a sanctuary. What struck me there is your comment that work was "supposed to be hard and serious". I wonder why we have this image of work — who told us this? It's not true, of course, but often the flame of entrepreneurship is extinguished by self-doubt in this way: "I don't deserve to be a business owner", "I'm not intelligent/beautiful/popular enough to become a success". 
The opposite is true, and I think we have internalized this narrative so much that it's simply accepted as fact. Yet there are opportunities for us to turn passion into business, which is exciting.
At Devereux Collection, jewelry pieces are considered tokens of memories, not trophies of earth's riches. We love this image. Your designs feel to us much more than simply ornaments or trinkets. They're labors of love, handcrafted and with stories to tell.
How did you come up with connecting jewelry with stories and feelings?
For me, they've always been one and the same. I don't look down at my neck and think, "how cool that I am wearing this trendy charm". I think, "how cool that I get to wear the locket my grandmother wore when she was my age". The world is full of stuff. And for me, the more meaningless stuff I have, the more untethered I feel. I find the experience of connecting to my own roots and to other peoples stories very grounding.
We agree. Certainly, the most potent memories we treasure are those we create with our loved ones. From the inherited ring to a locket gifted on a wedding day, the true value of our possessions has always been in their history, their story.
There is a lot of pressure on us as designers to create something long-lasting, timeless and unique. Devereux Designs often creates made-to-order pieces for a special occasion or anniversary. How do you begin this process with a new customer? Where does inspiration come from?
Every process is as unique as the piece being created and the customers who are part of the process. When we start from scratch, and especially when I am just getting to know the client, I always ask questions not just about their personal style, but about their lifestyle and activity level, their taste in art, and the things that are important to them. 
I often draw inspiration from pieces that have meaning to them; maybe we'll pay homage to a ring that their grandmother used to wear, or we'll include stones that represent each of their children.
That's really special. The personalization of Devereux Designs is something that makes your business stand out. I especially appreciate the word 'homage' to describe an important piece of jewelry. Homage comes from honor, which is certainly present in your designs: there is a particular respect for the materials you use and the stories they tell and have told. 
In today's world, we often choose convenience over quality and disposability over longevity. That's misguided. We have lost respect for our things. It has manifested in the symptoms of climate breakdown and our modern-day struggles with burnout and anxiety. To come back to reverence for our things is to reject that modern tendency. Instead, choose staple pieces that are affordable but not disposable, quality but not trendy. 
Continuing with that theme, do you remember the first jewelry piece that you bought? Do you still have it? 
When I was a kid, my idea of fun was visiting an antique store. My most frequently visited haunt was a mom-and-pop shop called Summit Antiques, which happened immediately next to my elementary school in New Jersey. On one visit, I spotted a tiny gold ring that had a little flower made out of rubies on the top. I often went to the case where it sat in the back of the shop to look at it on my way home. I saved up my allowance for months and months to buy it, and by some miracle, I still have it today. I can't wait to give it to my daughter.
What a magical story. What about the most meaningful piece of jewelry you created? Can you share with us what made it especially meaningful to you? 
The most meaningful piece I've made is just coming out of production. We are approaching the anniversary of my grandfather's death - he was my best friend, an avid collector, and the most stylish guy I've ever laid my eyes on. 
I took the ring he wore every day, which featured a little eagle, and used it as a stamp to make little coins for each member of my family. He left an imprint on us, and I wanted to represent that physically. 
Thank you for sharing something so special. That metaphor of imprinting on your family's lives, and to have created such a gift feels very special. 
Lauren, we've spoken about your passion for jewelry and your passion for creating something unique from older pieces. For all the jewelry lovers out there, which are your favorite antique jewelry stores? Feel free to answer both locally and internationally! We are nomads, after all.
My favorite cities for shopping for antique jewelry are London and Paris. It's pretty hard to visit an antique shop there and not hit the jackpot. Locally, in New York City, I prefer to visit flea markets (Brimfield is my Mecca). I get so much thrill out of pounding the dirt and hunting.
Great recommendations! You're right; there's always something to discover in the antique shops in Europe, whether it's a lost gem or an oddity that's just begging to be taken home…
So, what is the next step/chapter for Lauren Devereux personally and professionally?
More of what feels good. More family time. More adventures. More opportunities to learn.
More opportunities to create pieces which carry stories.
This interview has spoken a lot about your courage to follow your dream and how you turned your back on convention to forge your path following a passion. Let's finish it on that note. Many of our readers are entrepreneurs, mothers and businesswomen, and I know your words will be invaluable to them.
What tips or advice would you give to someone beginning to doubt whether following their dream is the right option?
There is no such thing as failure. There is either success or growth. Life is too short not to
try the damn thing. Don't wait. Don't let anyone, including that little devil on your shoulder, tell you why you can't.
NEU WOMEN QUESTIONNAIRE
Neu mantra: Grass grows where you water it.
Neu self-care/healthy practice: Do what feels good. Say yes. Fuck the "shoulds".
Neu female voice: My own.
Neu inspiring book or news article: The Artist's Way.
Neu spot to reconnect with: The bathtub.
Neu decompress routine: Evening walks with my daughter.
LAUREN IS WEARING