Your Holiday Wardrobe: Our Black and Champagne Capsule Collections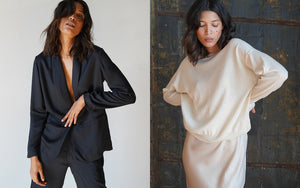 The sleigh bells ring, my husband shouts, 'We're late!", and I stand looking at my wardrobe thinking, "What on earth am I going to wear?!"
A closet full of clothes, yet an empty suitcase at my feet. Packing to go away for the holidays, or even just deciding what to wear when you're at home, can be tough. It seems we are inundated with choice, yet when it comes down to it we don't know what to choose.
My wardrobe is littered with bad purchases from Christmasses past. That cheap party dress which never quite fit right. That statement top which seemed dated only a few weeks later. Those bold pink pants – great shade, but difficult to style. Like a holiday Dickens novel, my wardrobe is full of the ghosts of bad decisions…
It's not just me. The fast fashion industry produces 92 MILLION tons of waste a year, and 85% of all textiles made in a year end up in landfills. That's a lot of unworn and unloved clothing. Our trend for consumerism pushes us to buy more and more, year on year.
Far better than a wardrobe stuffed with random pieces is a closet curated with style, convenience and longevity in mind. A capsule wardrobe is a small collection of clothes with possibilities for every occasion. Made of key, essential pieces, a capsule wardrobe is flexible and stylish, with pieces to dress up and down. On a base of neutral colors, every piece goes with another. Complement with your favorite jewelry pieces and a reliable handbag and you're ready to go.
This Christmas, Neu Nomads has created for you two timeless capsule collections to last you the season and beyond. Discover two complete collections, inspired by champagne and the classic ubiquity of black. Curated and thoughtfully put together by our designers, these capsule wardrobes will put the mindful back into your wardrobe, and make getting dressed for any event as easy as a slice of holiday pie.
Settle in and discover your capsule collection for this season to the next.
🖤 A Year Round Staple: Your Capsule Wardrobe in BLACK
Georgia O'Keefe famously said, "There's something about black," and we agree. From power to sexy, black is a fashion staple color that fits in whatever the season. For our black capsule, our key piece is, of course, the Karlie Jacket in black.
Versatile, with soft tailoring and a relaxed fit, the Karlie is a Neu Nomads favorite. Like coming back to an old friend, Karlie is relaxed, dressed up, professional and casual all in one. The perfect piece for every wardrobe. Read on for our looks for your seasonal events all styled around the Karlie Jacket staple.
For a Friendsgiving dinner
First on our busy holiday agenda is a Friendsgiving dinner. Team the Karlie up with your comfiest jeans and add sneakers for a casual, relaxed vibe. Add the SeaCell Crewneck Tee underneath for casual layers, but if you're looking to turn up the heat, go without and show off a sexy edge.
Casual, chilled and easy – the perfect look for a Friendsgiving.
For your last meeting before the holidays
Uh oh, time to head into the office for the last meeting before the holidays OOO emails start flurrying into our inboxes. Get dressed with Karlie and the Allie Ankle Pants for a professional edge. Add a Bias Cut Slip Camisole, SeaCell Crewneck Tee or a Cotton Cashmere Crewneck depending on your meeting agenda!
Throw on boots, the Dylan overcoat and a chunky scarf as you rush out the door for some winter textures and to keep cozy in the chill.
For a relaxed Sunday in the city
Now work is over, it's time for a relaxed weekend in the city, and there's nothing better to keep out the chill than pieces from our knitwear for women collection. Team your Karlie with Cotton Cashmere Leggings for a Sunday brunch. Add a Cotton Cashmere Hoodie to keep out the winter weather. Keep comfy as you run around the city with sneakers and your favorite coffee cup.
For your NYE party
Karlie's got you covered for the event of the year — the perfect pair with your party dress of choice. Here at the Neu Nomad team, our favorite dresses for popping the corks are the Easy Slip Dress, the Cowl Neck, or the ever-flattering Bias Cut. Add the final touches: some drop earrings, high heels or a pair of cozy boots to boogie your way into 2023 in style.
🍾 Pop the Corks! Your Capsule Wardrobe in CHAMPAGNE
Looking for a pop of class this season? Champagne is here! A classic neutral, champagne adds a touch of class to every occasion. Create strong statements in neutrals and discover your dreamy champagne capsule collection.
Our key piece in this capsule is the Cotton/Cashmere Oversized Crew Neck in champagne.
For weekend breaks
Casual holiday weekend hangs mean relaxed fits and comfy shoes. Team your oversized crew neck with luxurious Cotton Cashmere Leggings and your favorite pair of sneakers. Add another layer to keep out the chill with our warm and soft flannel shirt: the Ellen Shirt Jacket.
Grab your handbag and a chunky scarf and you're ready to go!
For a glamor filled night out
Ready to get in the party mood? It's time for a girls night sipping cocktails. Pair the oversized crew with jeans, the Karlie Jacket in Chelsea Marble and strappy high heels. Create texture with soft cashmere and luxurious TENCEL™. Add some statement jewelry and a neutral makeup palette for the final touch.
For a glamor filled NYE party, keep the crew for some cozy layers but team it with an Easy Slip Dress in Marble Malibu or the Palma Maxi Shirt. Add delightful textures for the finishing touch with the Raffia Tote.
For the office between Christmas and New Year
Heading to the office over the holidays? Grab your oversized crew and pair it with the Cropped Palazzo Pants for a professional edge. Keep out the chill by layering the Boyfriend Shirt on top or underneath, and add your well-loved boots for a dash into work.
For next year's warm-weather getaway
Champagne is the color for 2023 all year round. Pack your oversized crew in champagne for next year's warm-weather getaway and pair with Wide Leg Palazzo Pants and a soft, cool Lotus Camisole. In fabrics that keep you as cool as you look, head to the beach or on a city getaway as the sun shines. Don't forget the Raffia Beach Bag for your beach-side essentials.
Our Final Thoughts: Capsule for any occasion
Wherever you are, whoever you're with, whatever you're doing, celebrate this holiday season in style with our black and champagne capsule collections. Whether you're looking for feminine dresses, classic tailored forms or snug winter knits, our sustainable clothing has it all. Taking you from NYE to the office to the beach, Neu Nomads