Earth Day Resolutions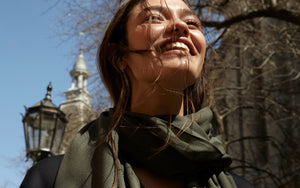 This Earth Day, our hope is that we may use this time of global pause to rediscover our belonging with the Earth. May we take this time to slow down, be in nature, care for those we love, and boldly envision the kind of world we want to create for ourselves and for future generations. And may we come to recognize that there is no human nature, only nature. 
Here at Neu, this time of looking inward has led us to a new guiding vision: Everything considered, everyone connected. We're envisioning a more conscious, sustainable way of living and doing business -- one that unites us in our values, with a deeper sense of connection to one another and to the natural world. When we create our sustainable women's clothing designs, this ethos is at the heart of what we do. We're dreaming of bigger things – creating pieces that last and that we live in for a lifetime. Saving the planet and consciously commenting on our impact on this earth. Whether you purchase sustainable women's accessories or you look for an organic cotton outfit, you can be sure that your neu item is mindfully and consciously made.
In this spirit, with the intention of opening up the conversation within our community, we ask our Neu Women which were their Earth Day Resolutions. 
MY EARTH DAY RESOLUTION IS... 
We'd love to hear more about your values and visions for the future. Share your thoughts tagging @neu.nomads #EarthDayResolution or drop us a line: contact@neunomads.com