Earth Day: Our Manifesto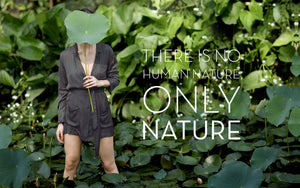 As human beings, we're not just a part of nature. We are nature.
It is becoming more and more apparent that our own individual well-being is not separate from the health of the Earth. Our lives and our health are dependent on the air we breathe, the food we eat, the water we drink and the abundance of natural resources that support us. 
Life operates through symbiosis. To take care of the natural world is to take care of ourselves, our families and our communities. As we wake up to this awareness of ourselves as nature, we recognize that when we heal our planet, we heal ourselves -- and when we heal ourselves, we heal the Earth. 
All of life exists in this dynamic interdependence and collaboration. Now more than ever, we understand that every living being is connected. Each of us is an integral part of the web of life. We all depend on one another, and every one of our choices impacts the whole. 
Neu Nomads works every day to create beautiful, wearable clothing without leaving a negative footprint on our environment or our human family. Our women's sustainable clothing collections are carefully curated to leave a minimal footprint. They're consciously designed to last longer, and to grow with your body, taking you from season to season.
As individuals, we are committed to a simpler and more sustainable way of life that is mindful and considerate of the planet as a whole. And as a company, we reaffirm our commitment to conducting business in innovative ways that honors and celebrates all life forms on Earth. 
As responsible leaders of our industry, we believe in aligning our values with our business practices. We commit to ensuring that clothing dyes are not contaminating our water; that the plastic waste generated in shipping and distribution is reduced to a bare minimum; that over-production is tightly controlled; and that factory workers are given fair wages and a safe and healthy working environment. We commit to using natural, plant-based fabrics that will pave the way for a more sustainable fashion industry, and in turn, will help protect and regenerate our environment. From our women's dresses to our natural linen tops, every item in our collections is mindfully made.
If these challenging times have brought one thing into focus, it is that by coming together as a human family and caring for the natural world that is our home, we can create a more harmonious and equitable world for ourselves and future generations. 
Thank you for being a part of our community and for joining us in our commitment to a more natural, sustainable way of living and doing business.