Neu Women: Kate Rockwell, Broadway Actress and Singer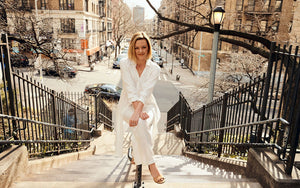 Neu Nomads has three homes across 3 continents.  New York: where our corporate office and part of the team is based, Munich: where we have our showroom and warehouse, and Delhi: where we source our natural fabrics and produce our collections. As true New Yorkers, we are coffee lovers, independent business supporters, Broadway fans and we are all about connecting and exchanging stories everywhere we go. And even though New York doesn't really feel like New York these days with all its stores, restaurants and shows closed, we decided to write this story as an homage to all of these things that make us who we are. 
Over the course of the last year we've featured a variety of inspiring women from business, media, hospitality, and fashion. Just days before the lockdown started, we visited the home of Kate Rockwell in historic Washington Heights, a neighborhood in Manhattan known for its vintage buildings and creative spirit.  It seems like a lifetime ago to think that we could even be in the same room with people other than our quarantine partners.  
Given the state of our city right now we are thrilled to have the opportunity to feature someone that is an integral part of the NYC arts community.  But let's back up to last summer when we first met the actress and singer at our 1 Hotels pop-up in Central Park and instantly fell in love. Her energy is contagious (finally we can use this word in a positive way!) You might remember her from Legally Blonde or most recently as one of the Mean Girls on Broadway. However, these characters couldn't be further from her true nature. She is a down-to-earth, brilliant woman who is not only incorporating more sustainable practices into her daily life, but also into the theater industry itself.  Not to mention a huge dog lover :)
We spent the afternoon exploring Kate's corner of NY with plenty of parks, views of the Hudson River all in the shadows of the George Washington Bridge.  We chatted about Broadway, the pending Corona crisis (how little did we know) and what we project for the future of sustainability in the theater industry. As for her consumer habits, Kate stated:
"In the past year, I have eliminated all the agressive fast fashion and I have been focusing specifically on extending the life cycle of the pieces that I have. Either by buying better quality pieces or by finding a new way to reuse what I have. However, I would love to see more clean and educational programs in general." According to her, people tend to prioritize and go for low prices at the moment. "They still don't get that they are paying a little bit more for more. It's about retraining the consumer brain into prioritizing those things as opposed to what is quick, what is fast, what is inexpensive. That's why I fell in love with Neu Nomads." 
It is indeed this passion for education and bringing about change through transparency and mutual collaboration that motivated Kate to take action in her own industry and join the Broadway Green Alliance, an industry-wide initiative that educates, motivates, and inspires the entire theatre community and its patrons to implement environmentally friendlier practices on Broadway and beyond. 
 "Our carbon footprint, with all the electricity that we use and the way that we throw things aside, is unthinkable" Kate argues. Think about all the signs lights that are rarely turned off and all of the textile waste generated by the costume and art departments, not-to-mention that old superstition of leaving a light on in every stage all night long. Did you know that in almost every theater, the room goes completely dark only when a production is not running? Myth goes that if the theater goes dark, the ghost of previous productions may arise to haunt the current one. Thus, every night, before closing the theater, a ghost light is turned on in the middle of the stage and is kept running all night long.  Who knew!?
Kate was in fact selected by her own cast members and crew as the Mean Girls' Green Captain which is a program implemented by the Broadway Green Alliance to find a liaison in every Broadway show. Kate was responsible not only for raising awareness, exchanging ideas with the organization and overseeing the implementation of eco-friendly choices. 
We have no idea when things will return to any sort of 'normal' in New York, but for now we'll keep on practicing gratitude for all the talented and inspiring women like Kate that we were able to feature in our Neu Women series. 
NEU WOMEN Q&A
Neu mantra: Hamsa (I am here, or I am right here).

Neu sustainable habit: Glass straws and a collapsible reusable coffee cup for my caffeine habit.

Neu self-care/healthy practice: Yoga and meditation.

Neu female voice:  Michelle Obama.

Neu inspiring book or news article: Three Women, by Lisa Taddeo.

Neu song obsession: Dance Monkey by Tones and I.

Neu go-to veg restaurant: PS Kitchen! It's vegan AND they donate all the proceeds to charities.

Neu spot to reconnect with: The outdoors and sunshine, since I spend so much time in a dark theater.

Neu decompress routine: A glass of red wine and a handful of cashews while cuddling my dogs.

Neu weekend retreat: North Fork of Long Island.

Neu travel destination: Spanish wine country.

Neu style icon: Celine Dion for her constant bravery.

Neu everyday look: my jeans and a (vegan) leather jacket.

Neu sustainable brands you love: Stojo and Simply Straws.

Neu Neu Nomads favorite style: Anything flowy and loose-the oversized shirts are a total win.
SHOP KATE'S LOOKS