Here, There, Everywhere: Neu Moms That Inspire Us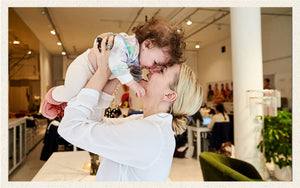 On this special day we take time to celebrate all the Neu Moms that inspire us today and every day. Today is about our moms, our grandmother, our friends, our neighbors, our sisters, our girlfriends and all the meaningful women that cross our paths, inspire us and love us unconditionally.
Amy Rosoff Davis in Los Angeles, Corinna and Theresa Williams in New York, Sophie Weill in Morocco. 
Because for us motherhood is about love, respect and care. We are all mothers in the eyes of someone and we are honored to be part of the journey of so many badass mamas around the world!
Claudia Torres in Buenos Aires, Isabella in Miami, Birgit Klett in Newport Beach, Amy Rosoff Davis in Los Angeles, Petra Nemcova in Dominican Republic. 
Since our inception our goal was to create beautiful wardrobe staples that could adapt to all the needs and stages of modern conscious women. As we like to say, every piece is tailored for ease and elegance - fit for laid-back lounging or global journeys. From NY, to LA, Munich, Morocco and Buenos Aires our collections have travelled the world with our Neu Community of women!
Levina Li in New York, Nicole Burton in Miami, Robyn Youkilis in Vermont.
Plus, thanks to our inclusive fit philosophy, more and more we see women choosing and even adapting their Neu Nomads favorite pieces during and after pregnancy.
Ashley McDane in Hawaii, Petra Nemcova in Dominican Republic, Fer Kinder in Miami. 
Our collection of women's sustainable tops adapt easily to a growing bump. Add a women's sustainable coat and jacket to cover up in the winter time or shrug it off in the heat – with staples as versatile as these there's no need for a maternity closet! After baby is born, our relaxed fit, soft fabrics and careful shapes help you get back to feeling your best.
The Boyfriend Shirt, Easy Slip Dress and Sayulita Kaftan are clear winners for neu moms. But of course, we can't avoid mentioning the glorious shot of our friend and muse Petra Nemcova in the Vogue Values Czechoslovakia Issue.
LAST DAY TO ENJOY 20% SITEWIDE