Our Tips for Soft Suiting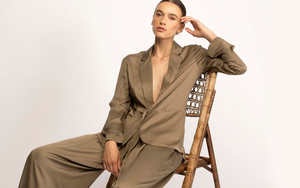 You heard it here first: Soft suiting is having a moment.
Gone are the days when the suit was just for the man about town. Now, suits are bringing back their curves with feminine shapes, delicate fabrics, and a whole color palette of wonderful shades. In linen or silky TENCEL™, we're wearing a soft suit everywhere we go, and so should you.
But getting to grips with the reimagined suit can be daunting. You've got it languishing in your wardrobe or on your wishlist, but it's still waiting for that debut moment. If that's you, then these tips are for you.
In this article, explore our top tips for styling your neu soft suit for any occasion.
Soft Suits for Everyone
First order of business? Let's get everyone on the same page.
A soft suit is a relaxed version of its tailored counterpart. Made from easy, lightweight fabrics, soft sustainable suits reimagine the structure of a jacket and pants combo with new, dropped lines and flowing movements. Often seen as more feminine than masculine shoulder pads and strict, rigid cuts, soft suits are the epitome of casualness.
And in beautifully silky TENCEL™ or authentically creased linen, our soft suiting options feel as good as they look. Celebrating movement, feminine energy, playful creativity, and classic shapes, the soft suit is the staple of any wardrobe. 
Looking for a soft suit of your own? Mix-n-match from our faves. Why not team the effortlessly glam Karlie Jacket with the easy-going Marlene Palazzo Pants, for a wide-leg take on suiting? Add the Betsy Blouse, and you've got an outfit for anything. 
Not your silhouette? Try the Carina Cropped Palazzo or the Allie Ankle Pants for suit lines that suit your personality. Or, try Karlie's big sister, the Charlie Jacket, with our classic Cara Palazzo Pants for a linen suit all grown up.
Tips for Styling Soft Suiting
Let's dive into our four tips for styling your neu soft suit.
Mix the Seasons
Our moms used to tell us linen was only for the summer. Mom, you were wrong. 
Our favorite style of them all is how the transition season is creating a fun mix of summer and winter. 
Team your linen pants with the Tahoe Crew Neck Sweater under your linen jacket. Layer your knitwear over organic linen by swapping out your blazer for a long-line cardigan and wearing a tighter-fit pant style. 
That twist of summer and winter fabrics gives a mix of textures and depths while beating that 'too-hot-now-too-cold' flush — keeping you cool on the subway but warm in that air-conditioned office.
Layer the Texture
Cashmere hoodie + soft suit = a clear winner for a cozy fall.
We love experimenting with textures, and in layering season, nothing says cool more than bundling up in the softest cashmere, even to the office. Dress up your Cotton/Cashmere Hoodie with the Kamala Blazer and slacks — or make your outfit even more comfortable with your Cotton/Cashmere leggings. In a neutral Black or Ivory, your dreamiest cashmere can go anywhere with you.
Go Shirtless
The easiest way to turn your suit into something else? Leave the shirt at home.
For a grown-up, sophisticated take, team your blazer with your pants and a long-line necklace with nothing else. Add heels, and your soft suit is ready for the winter dance floor. The perfect combo of sensual and covered against the cold, a soft suit is our party-season go-to when we have nothing to wear.
Not brave enough to bear it all? Cover up and wear a cami under your blazer instead. For a sultry, grown-up look, we love the Cowl Neck Camisole or the Bias Cut Camisole in Snow White — instantly gorgeous.
Embrace the Co-ord
Soft suiting gives you the freedom to embrace the matchy-matchy. Don't be afraid to commit to a color — and by commit, we mean to wear it head to toe!
Team your Allie Ankle Pants with your matching Karlie Jacket, plus the Sunita Blouse tucked in. Embrace a high neckline under your jacket with the Betsy Blouse and your Cropped Palazzo Pants, all in the same shade.
But psst – embracing the co-ord doesn't just mean reaching for your all-black-everything. This season, splashes of color are in, so try our twists on the neutrals. June Bug is a fresh alternative to navy or dark greens, and Caramel is the neu hue we cannot ignore.