The Fashion Underdog: Organic Linen Dresses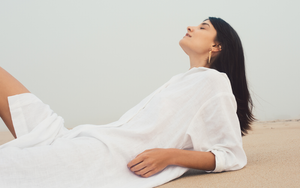 Here at Neu Nomads, we often think of linen as the underdog in the sustainable fabric world.
Naturally plant-based, hypoallergenic, and oh-so-cool, organic linen has it all. Yet linen has that beachwear reputation that it struggles to kick; think slouchy, organic linen dresses over sun-kissed skin, shaking sand from a towel.
As a result, linen isn't taken as seriously as it should be. The reality is that beautiful, organic linen is much more than a beach cover-up. It's a wonderful, natural fabric that brings its dynamic movement to many more styles than you would imagine.
So, join us as we pay homage to linen, banish that underdog reputation for good, and take a look at three ways to style organic linen dresses for women all year round. 
Linen? We're on your side.
From Seedling to (Linen) Suiting
Plant-based, well before it was a trend, linen has been with us for millennia. 
The ancient Egyptians famously used linen to wrap their mummies and as a key material in constructing the pyramids. Fit for the pharaohs and for the workers, linen was the fabric of it all.
That universality of linen didn't fade. Along the Silk Road in the last millennium, flax traders swapped linen for precious goods from Belgium to Sichuan. For princes, emperors, and kings, linen was the basis of their wardrobe, colored with dyed purples, blues, pinks, and deep burgundy. Yet linen was ubiquitous — the cloth used for men's shirts and women's dresses, to swaddle babies, to keep cool in the summer, and to layer up in the winter.
Linen is a fabric that weaves cultural, historical, and social elements together, always creating something unique and beautiful. As it moves with us, it tells our story.
More Than Your Beachwear
So, how did such an iconic fabric end up in the confines of our beach wear? How did we turn our backs on linen? The answer, of course, is tied up in how we treat the planet.
First came cotton, then came polyester and nylon to knock our precious organic linen off its top spot. As we got further removed from the natural rhythms of the planet, we reached instead for the artificial — the man-made.
Yet this is the moment for revival. Unlike polyester, linen releases no microplastics and no harsh chemicals into the atmosphere in every wash. Unlike nylon, linen is naturally hypoallergenic, soothing skin and giving room to breathe. Unlike plastic, linen is fully plant-based and sustainable.
As well as all this, the organic linen we use here at Neu Nomads has also been carefully chosen by manufacturers and growers with clean supply chains. We work with our suppliers to ensure they pay a fair wage to their workers, providing stable income and reliable benefits. 
You see, there's a lot more to the story behind your well-loved organic linen dress! 
Style Organic Linen Dresses Year Round
Let's take that long-loved capsule staple: your organic linen dress you've (almost) packed away for fall. In versatile shapes (we are obsessed with a linen shirt dress), linen is a summer classic, but as the nights cool, sustainable linen still has a place in our everyday wear.
1: Organic Linen Dress + Boots
The infinitely chic combo that we wear all year round is our casual linen with knee-high, chunky boots. 
The perfect mix between soft, feminine movement and masculine details, boots give linen the edge. In black, brown, or tan suede, our Petra Shirt Dress in beautifully breathable linen is the perfect partner to your fave pair of boots. 
2: Layers + Leggings
As the nights draw in on the last few weeks of summer, bare legs are the fastest way to get a chill. 
Our tip? Extend your summer wardrobe with a pair of leggings rolled up in your suitcase. As you're sitting in the sunshine, let your legs feel the last of the summer rays. Then, for that evening beach stroll, leggings under your organic linen dress are the perfect transitional cover-up.
3: Chunky Knit + Linen Anything
Whether you're a fan of sustainable dresses or you've got a wardrobe filled with versatile linen shirts, our under-sweater go-to is always linen anything.
As the days cool and you load up on layers, sensitive skin struggles. Itchy knits and temperature fluctuations in the transitional season are recipes for breakouts. But linen is the best remedy. 
Breathable, cool, and hypoallergenic, linen protects your skin from your knitwear — and the combo looks fabulous too. With a play on textures, linen works under cashmere or wool, and adding those layers beats those cooler nights, too.
For the Love of Organic Linen Dresses
Perhaps linen is no longer the underdog. 
In our Neu Nomads community, fashion means so much more than trendy. Instead, we choose meaningful, beautiful pieces that we wear over and over again. We elevate clothing that tells a story, that is made from fabrics that last a lifetime, and that returns to the earth as a natural cycle. 
Linen is one of the few fabrics that stand up to this test. With its storied history and expressive versatility, organic linen is fast becoming our year-round favorite.