The Origins of Neu Nomads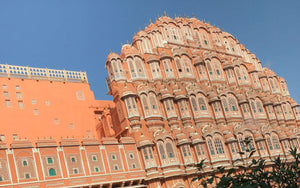 On the Road to Jaipur
Building a fashion-oriented digital company - distributed across three continents - has been an astounding adventure. From blurred rush of New York City to the colorful chaos of Jaipur, it all began with a Skype call, and crystallized around a few shared values: a love of fashion, a commitment to sustainable practices, and a firm belief in flexible, collaborative work.
Along the way, we have absorbed many valuable lessons, built a strong coalition of business partners (many who happen to be women), and ended up with a collection of romantic but elegant pieces, inspired by influences near and far. They are all very much a product of this marvelous journey.
Our vision was to create beautiful, organic clothing that was sustainably sourced, produced, and packaged, at a price point that reflected both the quality of the product and the labor of the workers, as well as the efficiency and care of our operation. For our dream sustainable clothes collection, we kept costs low by deploying a mobile workforce and working remotely. Instead of spending money on traditional expenses like rent and office furniture, we decided to examine first-hand each juncture in our supply chain so our customers can have full confidence in the sustainability of our business practices.
In Search of the Lotus Flower
Eventually, this took us all the way to India, the spiritual home of the lotus flower--the source of our signature fabric--and an enduring symbol of purity and transformation across eastern cultures. The lotus flower has its own fascinating story. Not only does it bloom magnificently out of thick mud, but this beautiful flower is just as resilient and tough as it is lovely and graceful. As it turns out, the stems, which are often just thrown away, can be made into a buttery soft but strong fabric.
We source the lotus flowers in Southeast Asia, where the stems are pulverized and spun into cones of yarn that are sent to India, to be woven into fabric.
We took a trip to India to visit the factories and mills involved in transforming this yarn into our lotus fabric. This unique organic textile is an eco-friendly alternative to silk that contains no chemicals or toxic components, and doesn't use any polluting energy during the entirety of its production.
Into the Heart of India
Our journey began at an insanely early hour--a necessity to beat the traffic out of Delhi. Save for a few dozing cows and anxious monkeys on the side of the road, the world was still and silent.
We were greeted in Jaipur by a blanket of steaming heat, some colorful and curious peacocks, and a few bedraggled tourists from Europe. After refreshing ourselves at our hotel, we stopped off at the dye house in Bagru, just outside the city.
Putting Sustainability First
The material dying phase can be one of the most destructive processes in textile manufacturing, and its impact multiplied many times: impacting the workers who handle the chemicals, the consumers who wear the clothes, and the environment into which the waste is released. The entire process consumes a vast amount of the world's most precious resource: water.
We were determined to change those outcomes. To start with, our partner facility is powered by solar panels and located in the center of India most ecologically progressive printing park. Not only do they use non-toxic dyes and chemicals, but the environmental impact of textile production is reduced by recycling up to 80% of the water in a common effluent treatment plant.
We are proud to be affiliated with this state of the art facility, funded in part by the UN and the Swiss government and committed to the new sustainability standards established in the UN Global Compact. Despite its fully automated production and strong commitment to the future, this facility is family-owned and strongly rooted in the community.
A Feast for All the Senses
After touring the facility, we set aside time to stop by Jaipur Modern for lunch and inspiration. In addition to the deliciously concocted, gorgeously plated dishes coming out of their kitchen, they also have a highly curated boutique featuring Indian artisans. This peek into India's vibrant modern culture was a real visual feast.
After that we stopped by our packaging company. This family-run business makes its paper entirely from the waste of nearby garment manufacturers. They take the discarded cotton scraps and pulverize them into a paste that is then poured into sheets and cut into paper. All of our garments are wrapped in this recycled fabric for shipping.
Some big challenges face companies trying to build sustainable supply chains, but getting rid of single use plastics is something we should all do! We also use 100 percent recycled material for our shipping mailers that are manufactured in the United States.
Our day ended at the most romantic spot in all of Jaipur - the Palladio Bar. Designed by Dutch designer Marie-Anne Oudejans, it is the most magical place to sip a cocktail at the end of the day in Jaipur. The juxtaposition of future, present, and past was on all our minds as we relaxed, and processed the day's events.
Shown above:  Palladio Bar - our favorite spot for cocktails and dinner
The Cool Night Air on the Veranda
The day gently drifted into a blissful evening. Our loungewear-inspired collection is designed to nurture exactly these kinds of moments - of quiet celebration and joyful reflection.
Crafting a brand that builds on the best traditions of the past, while upholding responsible standards that protect the earth's resources for future generations, has been a challenging but tremendously rewarding experience. We are proud to introduce first women's sustainable clothing collection from Neu Nomads, and to share the stories that entwine and inform every choice we have made along our spiritual trek to bring this collection to you.