Neu Nomads x 1Hotels Brooklyn Bridge - September Popup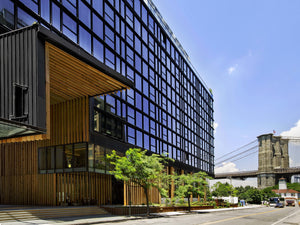 Neu Nomads is thrilled to announce we are partnering with 1Hotels Brooklyn Bridge for a month long popup this September.   The sustainable fashion popup will feature a curated assortment of best sellers and everyday essentials for the modern woman and worldly traveler. 
The entire Neu Nomads collection is made from biodegradable plant-derived fibers and non-toxic dyes crafted from fabrics that are ultra soft, lightweight, breathable and washable. Collaborating between New York City, Germany and New Delhi, the founders — two former fashion industry insiders with decades of industry experience — work directly with a global team of suppliers who share a commitment to sustainability, transparency, fair wages and fair pricing. From women's knitwear to sustainable accessories, natural ladies tops to versatile dresses, you can discover it all at our latest pop up.

"Our pop-ups in New York have been an incredible opportunity to spread the message of sustainability within the fashion community.  This partnership brings together two projects born out of love and respect for nature and the environment that surrounds us. We are thrilled to engage with the clients of 1Hotels that share our eco-minded values" said Karen Wood, co-founder and CEO, Neu Nomads.
"1 Hotels proudly serves as a platform for change, therefore it's only right that we share our space with partners that are doing the right thing. We are excited to showcase Neu Nomads as our retail pop-up partner for the month of September." said Pablo Lopez, Director of Marketing, 1 Hotel.
As part of the popup concept, Neu Nomads has secured activations from a number of partners to give customers an opportunity to dedicate time for themselves and reconnect each week. Full details and schedule to be posted on the 1 Hotel website.
Sweat & Stretch classes with Performix House

DIY Sun Tea Creation with The Alchemist's Kitchen

DIY Herb Blending for Stress and Anxiety with The Alchemist's Kitchen

Reuse and Upcycle Clothing Swap hosted by Robyn Youkilis, Sophia Li, Jess Tran and Karen Wood
WEDNESDAY, SEPTEMBER 18th
5PM to 8PM
1 Hotel Brooklyn Bridge - Lobby
60 Furman Street Brooklyn, NY
The Neu Nomads pop up will be at the 1Hotel Brooklyn Bridge location from September 2nd to September 22nd.  Open Daily from 10AM - 7PM in the lobby.