Neu Destinations: Greenpoint Brooklyn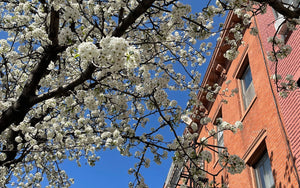 Traveling and discovering Neu Destinations has always been one of our passions and sources of inspiration. From the Rainbow Mountains of mystic Peru, the magical beaches of the Mediterranean, the streets and sunsets of the corners of renascent Europe and even our own home town; there is nothing we love more than visiting new cities, neighborhoods or just a special coffee shop in a far flung corner of the world. And that is what our new blog post series is all about, a space to discover or rediscover places together. 
To start, Karen Woods, co-founder of Neu Nomads, is taking us on a tour around one of our homes and favorite neighborhoods of all New York: Greenpoint, Brooklyn.
Just across from Manhattan but with a vibe all its own, Greenpoint feels like a small town in the middle of a giant city. It has its own identity, and is full of hidden magical corners that combine an old-school neighborhood vibe, with a young and artsy scene.
We love to meet up friends at the local coffee shops where they always call you by your name. Homecoming, Maman and Littleneck Outpost are some of our favorite ones. For lunch or dinners our go-to restaurants are Chez Ma Tante, Acre, Naked Dog, Esme, Rule of Thirds, Madre, Oxomoco or Milk & Roses.
Vintage stores are a must. From ready to wear to furniture, the curation of stores like the Dobbin Street Vintage Co-Op, Always One Fish Ahead, Awoke, Dusty Rose and many more are a great source of inspiration for our own collections. And Karen personally loves to finish some of her NN looks with vintage details. In the pictures she complemented the Cropped Palazzo Pants and Oversized Cashmere V-Neck with a cute vintage unisex jean blazer. Of course Neu Nomads is designed to become the mix and match staples that unites your wardrobe, from women's sustainable dresses to simple, high-quality tshirts and knits, we're all about creating a new look out of what we already have.
Plants, plants, plants everywhere...there is nothing we love more than being surrounded by nature and in Greenpoint is possible. The neighborhood is full of incredible plant stores like Greenery Unlimited and Tula Plants & Design where we stop almost every day to escape the routine, the computer and phone and reconnect with ourselves.  
Also, during spring the cherry blossoms are insane here making it the perfect place to go for long, meandering walks - without fail you'll discover something new. Plus, the contrast of the flowers with the stunning brick townhouses of the historic district, some remain unchanged since 1982, are a true natural piece of art. 
To close, the local pier at India street has one of the most incredible views of the city. Little secret: on chilly nights don't forget to finish the look with something warm chosen from our sustainable knitwear collection ;)

KAREN IS WEARING: