Neu Arrivals: Introducing Organic Linen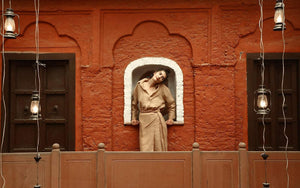 We are thrilled to introduce our capsule organic clothing collection of gorgeously natural linen. Woven from the flax plant, linen has been used for thousands of years and is known for being one of the most eco-friendly fabrics in the world.  Read on to find out all the reasons we are loving this incredible fabric.
We chose this incredible fabric for the spring and summer season because it's in line of our ethos sustainable fabrics sourced from nature.  There are lots of reasons why linen is a great sustainable choice for your wardrobe, from organic dresses to super-soft sleepwear. Here are some of the reasons we love it!  
Flax linen is one of the strongest fibers in the world which means your clothing will last for years and years
The flax plant grows naturally and requires no additional water other than rainwater
Because it's a natural fiber and sourced from plants, flax linen is recyclable and biodegradable
Linen fabrics are valued for their exceptional coolness and freshness so they're perfect for hot and humid weather
The whole flax plant can be used, leaving no waste 
Our linen collection is lint-free and becomes softer the more it is washed
Linen fabrics can be recycled into paper and insulation materials for the many industries including cars!
We have chosen the highest quality organic linen fabrics and use GOTS and OEKO certified dyes. Linen is a great eco-friendly but luxurious alternative to cotton and only requires rainwater to cultivate.  The flax plant can be harvested in areas that are unsuitable for food crops.  
The collection features soft and relaxed styles in neutral hues - sand, white and rose pink. 
 SHOP THE STORY