The NEU guide to Delhi: Tales from Entrepreneurs on the Road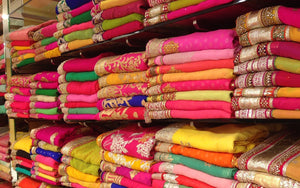 Our Days in Delhi: Tales from Entrepreneurs on the Road
Whenever we introduce people to our brand, there's one question that comes up more than anything else: "What's it like to do business in India?"
The short answer? It's has been exhilarating, frustrating, maddening, thrilling, and much, much more. Launching our operations here and working with suppliers all over India's heartland -- from New Delhi to Jaipur to Mumbai --   has been a long and winding journey as varied as the colors, sounds and fragrances of a Delhi street market. Throughout the process, the rich visuals, saturated colors and storied history of India was our muse for every one of our women's organic clothing collections. Our debut lotus collection is an homage to India's blending of the ancient and the modern, the spiritual and the material. From women's sustainable coats and jackets, to flowing dresses, accessories and more, our debut offering helps us bring the vibrancy of India back home.
Getting inspired by the beauty and mythology of India was easy. Doing business? That was another matter entirely. Visiting India as a tourist is already not for the faint of heart,  but learning how to do business here takes persistence, patience and an unwavering commitment to whatever it is that you hope to create -- all of this and a very strong stomach (yes, Delhi Belly is a real thing!)  
We (our founders, Karen and Angela) have criss-crossed the city of Delhi 100 times or more since the start of Neu Nomads, going back and forth and back again from our photo studio in Saket to our factories in Okhla to our meetings in Gurgaon.
The first thing to get used to in Delhi is the dizzying pace of life. The streets feel like an infinitely mirrored mosh pit of cows, rickshaws, taxis, bicycles and thousands of people on foot. The car horns, the pollution and crushing humidity have been known to overwhelm even  the sturdiest of travelers. And yet, it's an important part of the special vibrancy, history and inspiration of this diverse city.
As we've trekked all over the city managing our operations, visiting suppliers and running photo shoots, we've managed to find a few ways to stay balanced in all the madness and to come to truly appreciate all that this city has to offer.
Doing business in Delhi has us running around from one corner of the city to another, and we've come to love its quirks and hidden mysteries.
Here are some of our favorite spots in India's capital city. 
Spice and Wedding Markets: Not to be missed if you're passing through the city. Even with our intense workload, we made sure to put production on pause for long enough to take a dive deep into the famous spice and wedding markets of Old Delhi. Take note: This is not a touristy area, so it's important to make sure to dress a bit more modestly when making your way through the narrow, crowded winding alleys and corners of the markets. Our go-to market-day attire? Our peg leg pants layered underneath the essential shirt dress provide coverage that's lightweight, breathable and comfortable in the heat.  
Old Delhi: Only for the most adventurous travelers! This is the walled part of the city, which was founded by the emperor Shah Jahan (of Taj Mahal fame) in 1639. After you get lost in the spice and wedding markets, have a personal guide take you around the rest of this historic area. Better yet, have your driver arrange a rickshaw tour for the inside story of what's happening during your visit. 
Hauz Khas Village: Of course Delhi has their own version of hipster Brooklyn -- what city doesn't at this point? Hauz Khas Village, a neighborhood straddling Old Delhi and New Delhi, is centered around a tree that's transformed itself into a cultural touchpoint. Concentric rings of art, shops and madness spread out as people gather here to talk, shout, draw, shop, eat and be at peace with nature in heart of the city.
The Aanya Spa and Wellness Clinic: THE place for pampering. When it's time to scrub away all the sweat and impurities from running around Delhi, we head straight to Aayna. Their Hyrdra Facial and miracle facial work wonders, and you can even book a foot massage during the treatment. Don't leave without trying one of the  traditional South Indian snacks whipped by by their in-house chef. 
EATING
Qla: We love the gorgeous dining room at Qla, a contemporary pan-European restaurant in South Delhi. (Don't miss the exquisitely prepared truffle appetizer and delicate soups!) There are very few places in Delhi where you can  find rosé --- and needless to say, a stop at Qla is a lifesaver on hot days when the temperatures can rise over 100. This is your spot to rest, relax and recover.
Latitude28: With a modern twist on Indian food (which never disappoints!) this cozy and charming cafe is situated above Good Earth. Head to the back of the store and up the spiral stairs where you'll find a bustling mix of locals and expats.  We love going for Thali brunch which is a traditional Indian-style meal made up of a selection of various dishes. 
The Olive Bar and Kitchen: The romantic patio at Olive is one of our favorite spots to meet friends and clients. Tucked away in an old colonial building near Qutub and next door to Aayna, this is a relaxing and romantic spot to unwind with a glass of wine and some superb modern Italian eats.
SHOPPING 
Good Earth: A popular home interiors and design chain. We love the Khan market location, central to all the major hotels. The selection of handcrafted interior goods makes this our favorite place in Delhi to pick up something beautiful and unique for our friends and family back home. Their flagship store in the Saket district celebrates the heritage of the entire Indian subcontinent, featuring gifts with unique design stories inspired by nature, craft, culture romance and wanderlust.
Bikaner House: The former palace for the royal family has been repurposed as a social impact home for traditional handicrafts. At the palatial estate you'll find Vayu – Design for Living, a boutique full of  eclectic accents and artisan furniture. Check out the nearby India Gate while you're there.
Cottage Industries: If bargaining isn't your thing, be sure to stop by Cottage Industries. This government-run operation has set prices -- no haggling required! Wander the stalls here for authentic handicrafts, furnishings, jewelry, art objects and more, often presented by the artists themselves.
The Imperial Hotel: At least once in life, you deserve to be treated like royalty. The next time you're craving champagne brunch in an opulent luxury on a lazy Sunday, drop in at the 1911 Restaurant, where appetites will find their natural limits and vegan requests are always welcome! 
Do you have any favorite spots in Delhi? We want to know! Share your insider tips and India travel recs in the comments or on our Instagram.
xo 
Karen & Angela